Are you looking for a new pole saw to make trimming tree limbs quick and easy? Trimming tree limbs can be a real pain in the neck… Find out if the Ryobi 18V Pole Saw could make your tree maintenance easier and faster.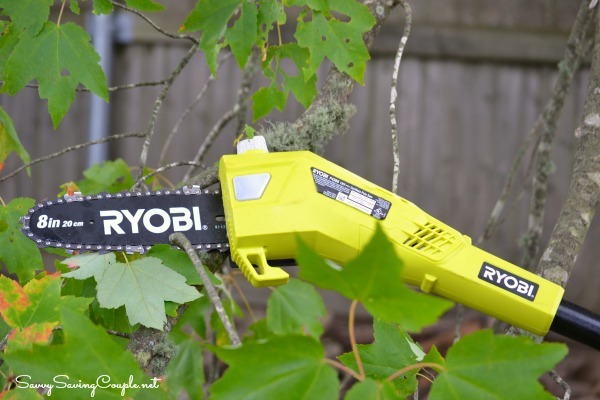 My old manual pole saw worked great for getting those high branches, but after a short while of looking up while sawing/pruning tree limbs, my neck would really start to bother me. Plus, not to mention the muscle fatigue that accompanies sawing a 4-6" tree branch.
By the time the branch falls, I feel like leaving it wherever it landed and heading back into the house for a cold one!
Ryobi Pole Saw
Thankfully there's a better way! It's called the Ryobi 18V One+ Cordless Pole Saw.
The Ryobi 18V Cordless Pole Saw is basically an 8 inch electric chainsaw attached to the end of a pole. Because of this saw, my days of straining my neck, while tediously sawing a branch 8 feet above my head are over! The Ryobi Pole Saw cats through limbs in a matter of seconds, not minutes.
So how does the Ryobi Pole Saw hold up? Let's look at the specs.
Specs:
Battery: 18V One+

Charge Time: 1 hour

Bar & Chain: 8"

Max Cutting Diameter: 6 inches

Length (extended): 9 ½

feet

Length (collapsed): 6 ½

feet

Weight: 8 lbs.
My Thoughts:
Weighing in at only 8 lbs. is a great benefit!
While utilizing the full extended length of 9.5 feet, having too much weight at the end of the pole could lead to safety issues. Luckily, 8 lbs. of total weight is not hard to handle for the average person.
In addition, there is shoulder strap that is mounted to the pole. The shoulder strap provides even greater control and support of the saw.
The shoulder strap is adjustable, and has a quick-release tab that's easy to reach - just in-case you need to drop the saw quickly due to an emergency.
Best of all, the Ryobi Pole Saw requires a minimal amount of assembly, which you can watch in my video review.
Assembly
The extent of the assembly is really only securing the poles together and adding in the included Bar & Chain oil.
Other than that, you need to check the chain tension, and make sure the bar is secured by checking the tightness of the cap screw that secures it. Ryobi included a hex key for this purpose.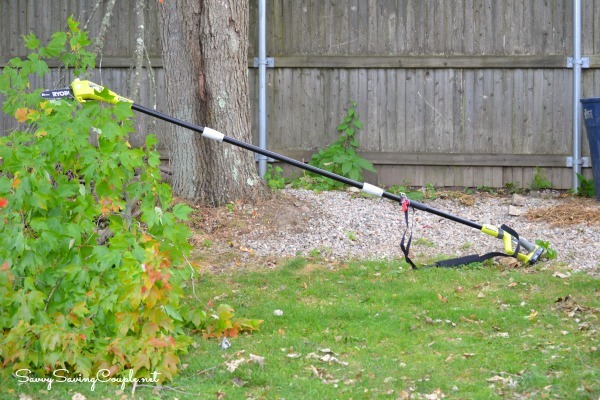 Using the Saw
The Ryobi Pole Saw is comfortable to use. Well, at least as comfortable as a 9 ½' pole saw could be...
The saw has enough power to cut through limbs up to 6" diameter, which is pretty impressive for a cordless saw!
I recommend you make use of the cut guide, which is the textured section of the saw case where the bar & chain come out of the saw body. Keeping this section against the limb greatly increases the saw stability and control.
Once you start cutting into a limb, the saw holds its place by pulling the limb into the saw's cut guide. This makes it easy to cut through larger limbs by keeping the saw on track.
The overall quality of the Ryobi 18V Cordless Pole Saw is excellent.
All components fit together properly and appeared to be manufactured to high standards. I didn't discover any defects or workmanship issues with the product.
Limited Warranty
In addition to that, the Ryobi 18V Cordless Pole Saw is covered under the Ryobi limited 3yr warranty.
That's a generous warranty, and it lends credence to Ryobi's confidence in their products' quality.
Summary
The Ryobi Pole Saw cut through most of my limbs in less than 30 seconds, and that's counting all 3 cuts Ryobi recommends in their user manual.
The time savings alone, make this Cordless Pole Saw a good buy. If you need to cut some limbs off you tree or perform some general pruning, don't waste your time doing it the old fashioned way anymore.
This product can be found online at Amazon (affiliate link) and in stores at your local Home Depot.
Other Ryobi Products I Recommend:
Did you know Ryobi Power Tools makes a really good Inverter Generator? I have used my generator during storms to power a few things in my home and it worked great. It's also great for camping or for bringing power to a job site.
The Ryobi 3100 Pressure Washer has served me well over the past several years. I've used it to wash our cars, our house exterior, and fences.