Need affordable and reliable power at the jobsite, campsite, or on the go? The Ryobi 2200 Starting Watt Digital Inverter Generator is the way to go! There are so many great uses for this portable generator. Even if you don't think you need one, keep on reading.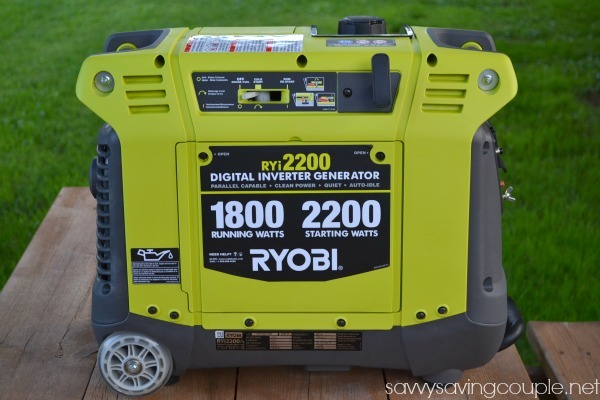 Why Own a Portable Generator?
The first reason is obvious - if your home loses power.
Sure, a 2200 starting/1800 running watt generator will not power your entire home. However, with this wonderful device, you can power a refrigerator or a furnace. My home rarely ever loses power, so I never had a reason to buy a backup generator.
Last winter southern New England was hit with a monster of a blizzard. This storm dumped 2 feet of heavy snow, knocked down countless trees, and killed the power of thousands of homes and businesses. My home was one of them.
During the roughly 24 hours (yep, 24 long hours!) the power was out, my furnace couldn't run. Our house dropped down to 50 degrees F! We were huddled on the couch with winter jackets and hats, and could see our breath. It was horrible.
Although the Ryobi Digital Inverter Generator isn't enough to power an entire home, it is plenty capable of powering my pellet stove and refrigerator.
The same goes for summer. In the event of a power loss, this generator can easily power a refrigerator, so you can save your perishable food from spoiling.
Portable Power
Other uses for the Ryobi 2200 Starting Watt Digital Inverter Generator is taking advantage of the portable power.
This generator is great for camping or outdoor events. It's also great for powering corded power tools on a job site.
With the Ryobi Generator you can power your table saw, router, and other corded tools without running extension cords or running back and forth to where your equipment is plugged in.
Remember, this is a digital inverter generator. That means it generates clean power at 60Hz, so it's safe to directly power sensitive electronics with it.
About the Generator
The Ryobi 2200 Starting Watt Digital Inverter Generator impressed me as soon as I pulled it out of the box. It's a really sleek looking for a generator.
In-fact, you can't even tell it's basically a gas powered engine, because it's fully encased in Ryobi's signature colors and stylish case.
Featuring a 106cc OHC 4 Cycle engine, the RYi2200 is rated for 15 amp AC / 7.5 amp DC.
The engine couldn't be easier to start either. You simply set a switch to the "start" position, pull the recoil cord to start the engine, and set the switch to the "run" position. It's that easy! Most other generators have a starting procedure that's twice as long.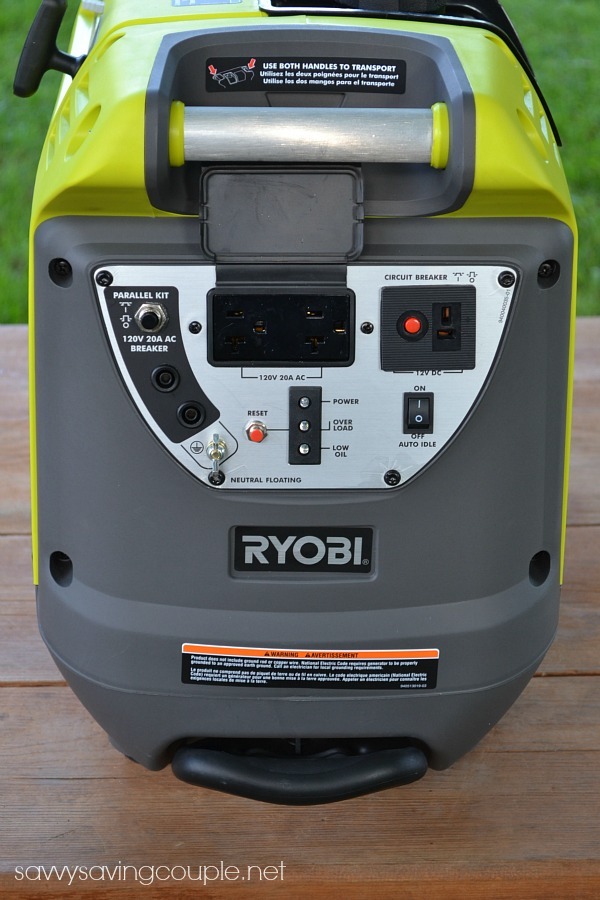 In terms of noise level, the RYi2200 is one of the quietest gasoline powered generators I've ever heard!
You can easily talk over the generator while it's running without having to yell at the top of your lungs. In addition to being quiet, the engine runs nice and smooth also.
You don't have to worry about the RYi2200 vibrating itself into your neighbor's yard or down the street! In addition, by turning on auto-idle the noise level is reduced even further. This feature also helps to conserve fuel by lowering the engine RPM when possible.
The encasement of the RYi2200 has a well thought out design, and is visibly durable. There are a couple of access doors that are easily opened by unscrewing 2 screws with the supplied screwdriver. These doors give you access to the engine for checking/filling oil or and checking/changing the air filter.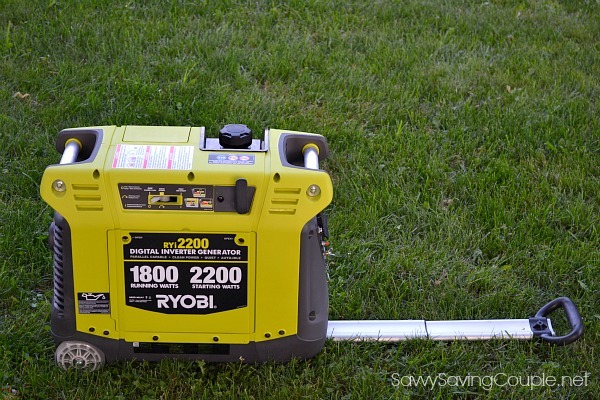 Weighing in at 51 pounds, it's light enough to lift completely off the ground by the 2 aluminum handles on either end of the body. That way it's not backbreaking work to load and unload the RYi2200 from your car or truck. In addition, the telescoping handle makes ground mobility a breeze by allowing you to tilt the generator up and roll it on its wheels.
Last but not least, if you require more power, you can hook up 2 RYi2200's in parallel to double your amperage and wattage capacity! Ryobi designed the RYi2200 with this in mind, so they offer a parallel kit (sold separately), and plugs conveniently located on the generator for this very purpose.
Overall, I'm thoroughly satisfied with the features and quality of the Ryobi 2200 Starting Watt Digital Inverter Generator (RYi2200) . This inverter generator provides clean, efficient power at a price that doesn't break the bank. Plus, it comes with Ryobi's awesome 3 year limited warranty!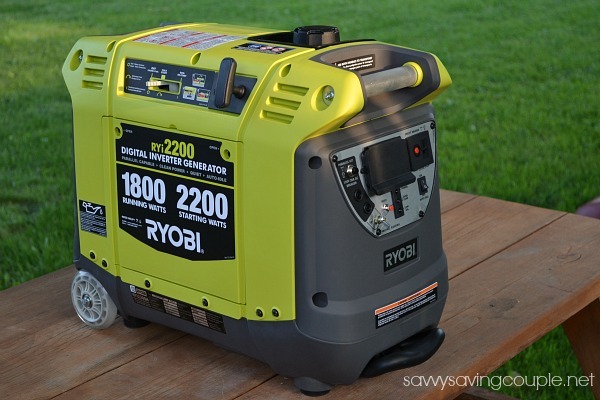 So what are you waiting for? The Ryobi 2200 Starting Watt Digital Inverter Generator (RYi2200) is sold exclusively at Home Depot.
Want to see the RYi2200 in action? Check out our video review on YouTube.
Do You Like Affordable and Reliable Power Tools?
Check out our other reviews of Ryobi products: