Are you looking for a powerful pressure washer that's capable of tackling the most challenging home cleanings? The Ryobi 3100 PSI Pressure Washer looks good on paper, but how does it perform? Read on to find out...
Choosing a Pressure Washer
I believe every homeowner should invest in a good quality pressure washer. They are great tools for performing the following tasks around the home:
Washing cars
Cleaning the driveway
Washing the deck
Washing mold off house siding
When shopping for pressure washers, you should be comparing pressure ratings (PSI - Pounds per Square Inch), flow rate (GPM - Gallons Per Minute), quality, and of course price.
Another consideration should be whether you want a gas or electric powered pressure washer.
Gas pressure washers will cost more money, but will be able to deliver water at much higher pressure; and that's really what you want from a pressure washer. Otherwise, your basically buying a souped up garden hose!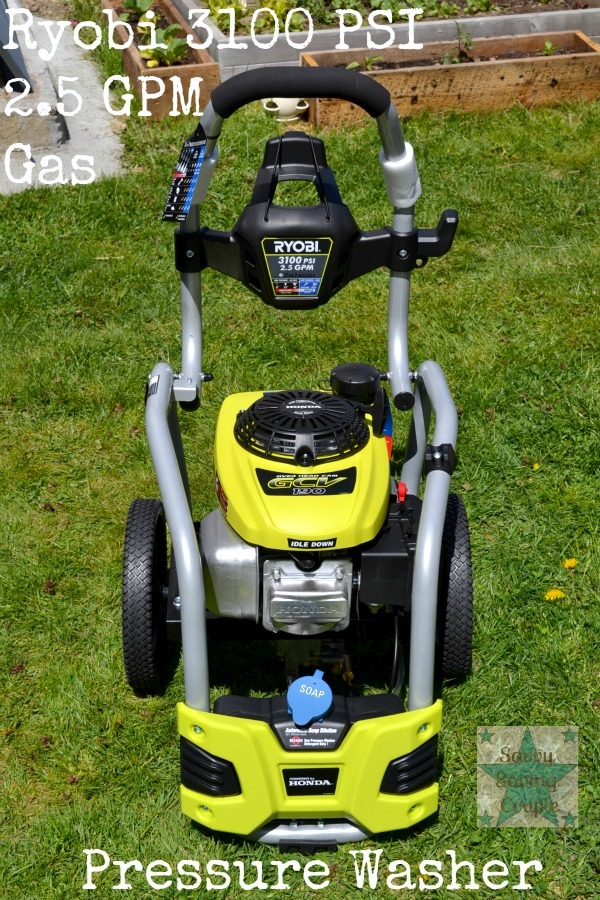 Ryobi 3100 PSI Pressure Washer:
The Ryobi 3100 PSI PRESSURE WASHER rates well in categories of Power, Flow Rate, and Price. Plus, it's engine is made by Honda. Honda has a great reputation for making quality, long lasting gas engines.
I was fortunate to get the new Ryobi 3100 PSI  2.5 GPM GAS PRESSURE WASHER shortly after it hit store shelves in 2013. I was impressed with its overall quality and performance.
Specs and features:
Engine Displacement: 187 cc
PSI: 3100
Flow Rate: 2.5 GPM
Pump: Axial Cam
Hose Length: 25'
Wheel Size: 12"
Weight: 65 lbs.
This size of pressure washer is considered "medium-use", and is meant for homeowners that need a pressure washer for cleaning the deck, driveway, walkway, car, boat, etc...
Commercial pressure washers are rated at pressures over 3000PSI, but are not practical for homeowners. That being said, the Ryobi 3100 PSI 2.5 GPM GAS PRESSURE WASHER is at the top of its class in terms of power.
Storage:
Between the handles, there is a rack that you can spool the pressure hose onto for storage and/or transportation.
The Spray Wand Trigger Handle is mounted to the pressure washer handle assembly, and another holder mounds to the lower half of the pressure washer handle. This allows you to hang the secure the spray wand when it's not in use. Everything stays in place neatly for storage or downtime.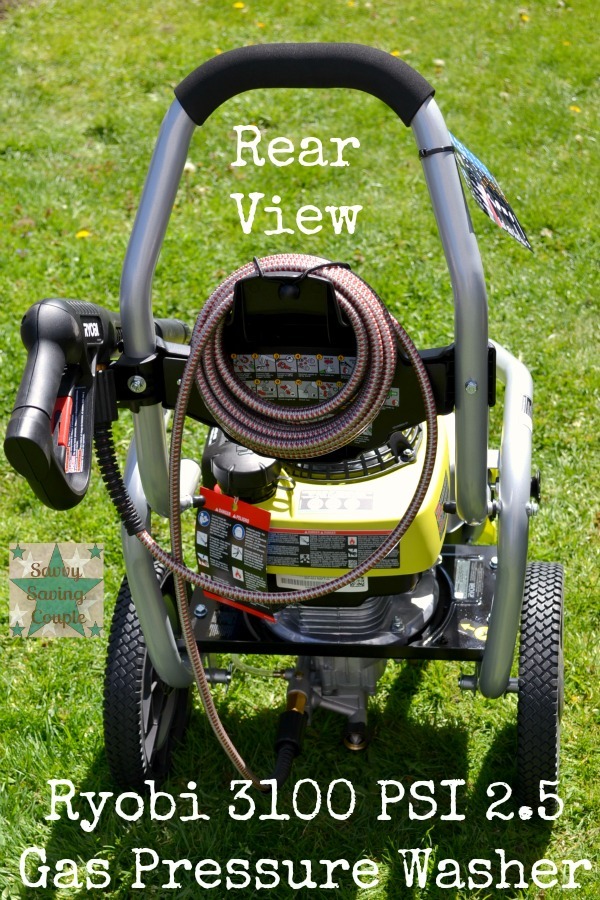 Plus, just in case you forget the starting procedure, there are step-by-step, pictured instructions on that rack as well.
Assembly and preparation for first use: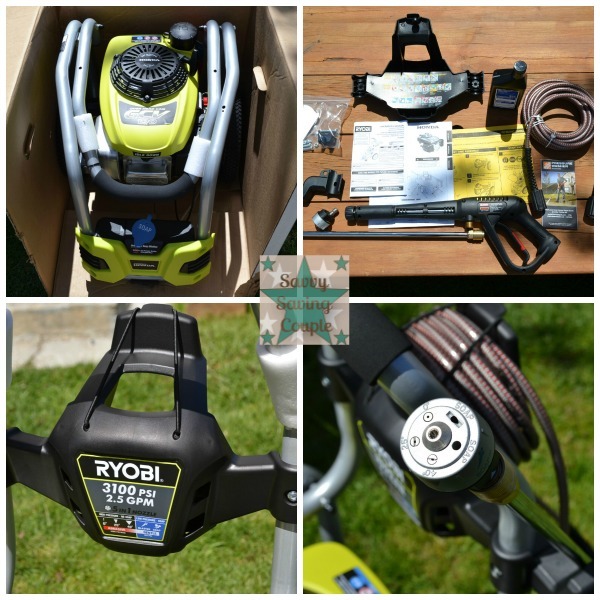 Install the hose and handle holders, that I mentioned in the previous paragraph. These mount to the handle assembly with threaded bolts and lock nuts.
Fill the oil reservoir with the included engine oil. Yep, that's right... INCLUDED engine oil! Sometimes it's those little things that make your day!
Once the holders are installed and the oil is filled, it's time to hook up the hoses, and you're good to go! It's really that easy to get everything going.
Mobility:
The Ryobi GAS PRESSURE WASHER is pretty light weight, considering the power it outputs. Therefore, moving it around is easy, especially with its perfectly sized wheels.
The handle folds open and closed very easily, so putting it into, or pulling it out of storage isn't a pain.
Spray Wand & Nozzle:
The spray wand is very well built. The only plastic on the whole spray handle/wand assembly is the handle and trigger portion. The wand screws on, and is secured by a wrench.
The Spray Wand is made completely from metal, which appears to be mostly stainless steel and brass, but I can't confirm.
The spray nozzle is also all metal, and connects to the spray wand by a quick-connect fitting, so you can change it out super easily.
On the spray nozzle, you have the choice of 0, 25, or 40 degree sprays, plus, long range and short range soap applications.
Overall, plenty of options for all your average jobs.
Warning - A 0 degree spray at 3100 PSI will remove material from most of your outdoor surfaces, so use this setting wisely!
Tips to Keep Your Small Engine Running Smoothly:
Never store your equipment with ethanol based gas in the tank for longer than 3 months. The best practice is to run the tank empty before storing your equipment. If you must store it with ethanol based gas, be sure to add a fuel stabilizer to the tank like STA-BIL and run the engine for a couple of minutes to get treated gas into the fuel lines and carburetor.
Another thing you could do is use an ethanol free gas like TruFuel as your last tank of gas for the season. You won't need to buy fuel stabilizer if you use TruFuel because it's ethanol free.
Never store your pressure washer with solution inside the soap reservoir. It will gunk up the reservoir tank and lines that lead to the pump. This will cause you headaches the next time you try to use your pressure washer.
Change the engine oil every 50 hours of operation.
Summary:
Overall, I'm very satisfied with the quality of the Ryobi 3100 PSI 2.5 GPM GAS PRESSURE WASHER, which can be purchased at the Home Depot. Like other Ryobi products such as their pole saw, string trimmer and generator, It has a well thought out design for storage capabilities, and ease of use. Plus, it's powered by a Honda engine!
This pressure washer is built to last. Just consider this, the Ryobi GAS PRESSURE WASHER comes with a 3yr warranty! That's the same term most car manufacturers offer!
Therefore, I feel confident that if taken care of properly, I can expect to have this pressure washer for many years to come.
Watch the video review below to see the Ryobi Gas Pressure Washer in action: