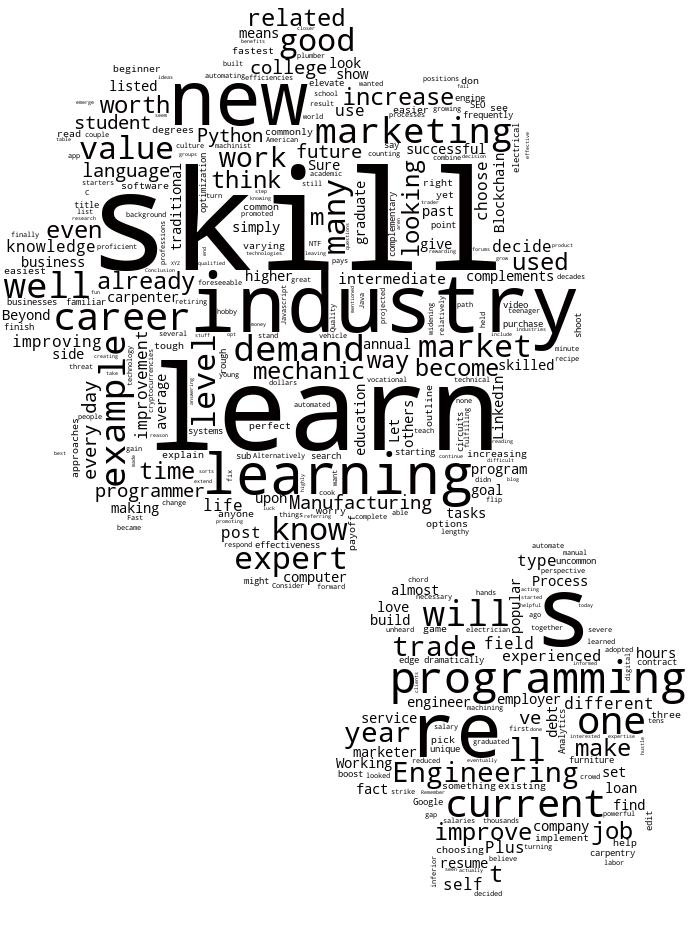 So, you're looking to improve yourself. Good for you! But with so many options out there, it can be tough to choose what new skill to learn. Well, don't worry – I'm here to help. In this post, I'll explain how to choose a skill that's worth your time. Plus, I outline some skills that are perfect for anyone looking to up their game. So read on, and pick the one that's right for you!
How do you decide what skill to learn?
The way I see it, you have three different approaches to choosing a new skill - each has varying degrees of payoff:
1) Learn or improve a skill related to your current industry or field.
Learning a skill that's common to your industry or improving your knowledge of an existing skill is the easiest and fastest to implement. This type of self-improvement can increase your value in the job market, or even make your life easier. Here are some examples:
Learn how to use a software that's commonly used in your industry that you're not experienced with yet.
Increase your skill level at something you already know - like increasing from an intermediate level to an expert level, or from beginner to intermediate.
2) Learn a skill that complements your current industry or field.
Learning a new skill that complements your current industry can dramatically boost your value and effectiveness. Think about the industry you're in. What types of services does your company frequently purchase or sub-contract from other businesses? That might give you a good starting point to decide what to learn. Here are some examples of complementary skills:
If you're a rough carpenter, learn finish carpentry or furniture making.
Let's say you're a marketer, learn how to shoot and edit video, search engine optimization (SEO), or become an expert in Google Analytics.
If you're a mechanic, become familiar with electrical circuits and systems.
3) Learn a skill that is uncommon to your current industry or job title.
Learning a new skill that almost no one else in your industry has will give you a unique edge and elevate your value to a higher level. Alternatively, if you're looking to change careers or simply learn a new hobby, this will be your path.
Let's first look at this self-improvement from a career perspective. I'll use myself as an example:
My background is in manufacturing engineering. I learned machining as a teenager in vocational school, graduated from college, and became proficient in several skills related to Manufacturing Engineering, Process Engineering, and even Quality Engineering. In fact, I've held positions as an engineer for over the past 14 years and counting.
A couple of years ago I decided to learn the Python programming language. While Python is a popular computer programming language, it's almost unheard of in my industry. Why would I want to learn it then?
For starters, I love automating tasks and improving efficiencies (hence my Manufacturing Engineer career). Plus, I love technical things and have wanted to learn programming for years! Therefore, I finally set out to teach myself.
I'm still learning more every day, but I've already used my new programming skill to build some powerful programs that have been adopted at the company I work for. In fact, I was able to automate some lengthy manual processes. One of the tasks I automated reduced the time to complete from 5+ hours to under 1 minute!
How do you think that'll look on a resume or to an employer? It's a great way to stand out from the crowd!
How could learning computer programming improve your life? Are you already a programmer? Set out to learn mechanics so you can fix your own vehicle, or learn how to cook and program your own recipe app.
When you combine 2 different skills together, you can turn that into a successful business.
In Demand Skills for 2022 and Beyond
If none of the examples I listed above strike a chord in you. Here's a list of some skills that I believe will be worth learning this year and in the foreseeable future:
Trade Skills
Over the past few decades, American culture has over-promoted college education as the one and only way to gain the skills necessary for a successful career. Working with your hands in a trade was looked down upon as inferior and even used as a threat to young people who didn't respond well to traditional academic education.
Fast-forward to 2022 and we find ourselves with a severe skill gap that's widening every day as more and more skilled labor is retiring. As a result, professions like electrician, plumber, machinist, mechanic, carpenter, and many more are growing in demand.
Not only can working in a trade be a fulfilling career, but it also pays well. The average annual salary of a college graduate is $50,000 and many students graduate with tens of thousands of dollars in student loan debt. On the flip side, many trades have average annual salaries higher than that and no student loan debt.
Programming
In a world that is turning more digital every day, the demand for programmers is only projected to increase. Consider learning one of the popular in-demand programming languages like:
Blockchain
Blockchain technology is what cryptocurrencies and NTF's are built upon. As these relatively new technologies continue to emerge, demand for skilled programmers will grow as well.
If you aren't interested in programming, you could opt to simply learn the market and become an expert trader or build a new side-hustle.
Marketing
The reason I listed marketing as a skill to learn is because its benefits extend beyond traditional marketing. Sure, it's good to know how to market a product or service if you work as a marketer or have your own business. However, what I'm referring to is learning to market yourself!
Marketing yourself means promoting your knowledge, expertise, and value to your current or future employer or clients. You could be highly qualified and experienced, but if you fail to show others what you can do, you're leaving money on the table.
Examples of marketing yourself include creating an effective resume, answering questions on forums or LinkedIn that are related to your industry (you can find groups on LinkedIn for all sorts of industries). Your goal here is to show others that you know your stuff about "XYZ" and eventually you'll be seen as an expert. This can also be done at your current job. Just make sure you're actually being helpful and not acting like a "know it all"!
Conclusion
You've made it to the end of this blog post. That means you are one step closer to knowing what skill to learn in 2022! After reading these skills that were mentioned, which do you think is best for your career? Remember that learning a new skill can be difficult but rewarding. If any of these ideas seem like they could work out well for your future goals, take some time and research how to get started on them today! Have fun with the process and good luck on making an informed decision about what will make all those hours at work worth it.