Wondering how well a battery powered blower works for clearing yard debris and maintaining a clean home landscape? I've owned and used the Battery Powered Stihl BGA 100 for over a year now, so I have the knowledge of the good and bad of this blower.
Read on to find out if the Stihl BGA 100 Handheld Blower has what it takes to handle your yard.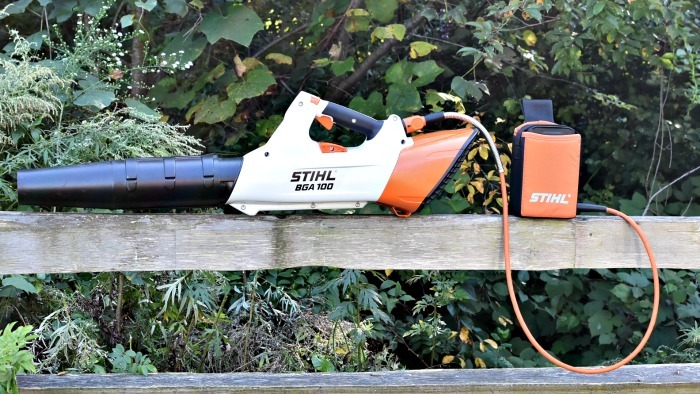 Stihl BGA 100 Specs
I always like to start a review by listing the product specs first, and the BGA 100 is pretty impressive in that department.
Firstly, it's important to note that the blower has 4 levels of intensity - 1, 2, 3, and boost mode. Transitioning between intensity levels is seamless because it's controlled by the control lever (basically a trigger), which is spring-loaded and has a smooth travel. Another way to think about it is that the control lever acts like a dial increasing the intensity the harder you press.
Keep that in mind as you read the specs below because several of them are based on the intensity level the blower is operating at.
It's also important to note that air volume and velocity values were measured at the nozzle. Therefore, the values listed below are the best-case scenario.
Number of intensity levels - 4 (1/2/3/boost mode)
Air Volume - 494 CFM (cubic feet per minute) in boost mode
Max Air Velocity - 168 MPH
Average Air Velocity - 141 MPH
Weight with AP 300 Battery - 9.3 lbs
Run Time with AP 100 Battery - 7 minutes
Run Time with AP 300 Battery - 16 minutes
Run Time with AR 1000 Battery - 45 minutes
Run Time with AR 2000 Battery - 60 minutes
Run Time with AR 3000 Battery - 75 minutes
Features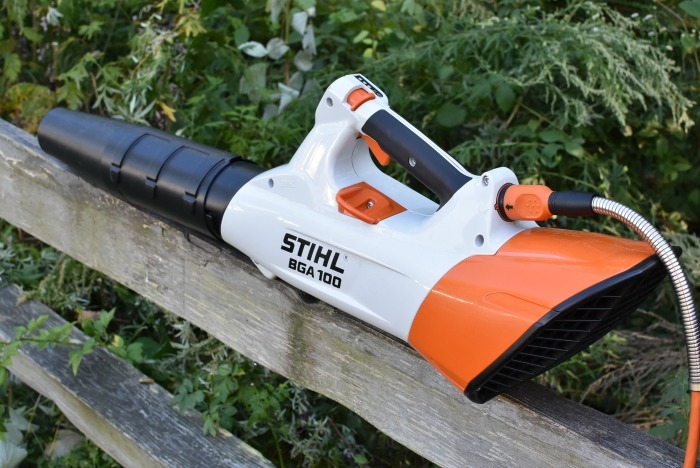 The Stihl BGA 100 Battery Blower is simple and intuitive to use. That being said (written actually!), it's best features are unseen because they're engineered right into its design.
Stihl managed to engineer the BGA 100 in a way that allows you to simply pick it up, press the control lever and start blowing.
Let go of the control lever and it stops.
The following features are what I believe make this blower top notch:
Separate battery pack with belt strap/loop
There are different size batteries that are compatible with the BGA 100 Blower. Each battery connects to the blower via a cord and plug. The battery sits inside a pack that can be strapped to a belt or backpack.
Batteries AR 1000 and higher are backpack batteries.
I own 2 AP 300 batteries, which also work to power my Stihl MSA 160 C-BQ Chainsaw and string trimmer. The universal compatibility of the batteries with other Stihl battery powered tools is a lifesaver!
Lightweight One-Handed Design
The fact that there is no battery inside the handheld blower, keeps the weight of the blower to a minimum (about 5 pounds).
This makes it easy to carry around with one hand while blowing over a large area. However, after a few minutes of holding in the control lever (trigger) my arm starts to get fatigued. When that happens, I just switch to the other hand.
High Volume & Velocity Air
For a battery powered tool, this blower has impressive air flow!
When using the blower, I find myself spending most of my time in Boost Mode. The lower intensity modes work good for blowing debris across a smooth surface like a garage floor.
In fact, this blower works awesome for clearing my garage floor of leaves, dirt, grass clippings, dead bugs, and anything else that accumulates!
However, if you're blowing grass clippings/leaves across asphalt or a lawn, Boost Mode is the most effective. Since this is the most likely scenario most homeowners use their blowers for, most people will find that they operate in boost mode consistently.
Low noise operation
I own a 2-cycle backpack blower. It's a mister/duster that I use to spray my property of tick & mosquito repellent.
In order to safely operate a 2-cycle backpack blower, you need to wear hearing protection because their motors are loud enough to cause hearing damage. Gas powered blowers can reach sound levels of 100 decibels or more at the distance of the motor to your ears.
On the contrast, a battery blower like the Stihl BGA 100, is much quieter. In full boost mode the maximum sound level is 90 decibels if you're measuring right at the motor. Therefore, it's less at the distance your ears are from the motor.
In other words, the Stihl BGA 100 does not require the use of hearing protection. Which is another reason why I like it so much!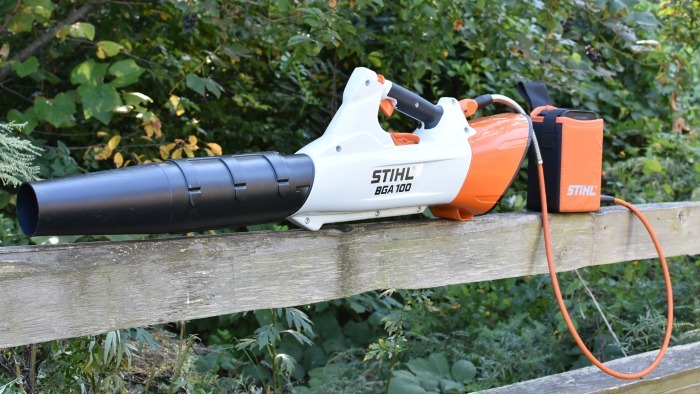 Runtime and Power
The main complaints people usually have with battery powered tools are power and runtime, so let's address those concerns below:
In my humble opinion, the 16 minute runtime of the BGA 100 paired with an AP 300 battery is sufficient to accomplish most users' blowing tasks. However, there will be people who think 16 minutes of boost mode runtime isn't enough. To those people I say... Buy one of the larger batteries, like the AR 1000 and you now have 45 minutes of runtime... problem solved!
In terms of power, this blower produces 494 CFM (Cubic Feet per Minute) of air volume. By contrast the Stihl BR 200 Backpack Blower, which is a 2-cycle gas powered blower produces 400 CFM. That's 94 CFM LESS THAN THE BATTERY BLOWER!!!
The idea that battery powered tools have inferior power and runtime compared to their gasoline counterparts is now outdated. That certainly was the case 10 (maybe slightly less) years ago, but the ever increasing introduction of new, high-power, lightweight battery technology is changing that. Just look at Tesla Motors...
If you're in the search for a new leaf blower, I strongly urge you to consider a quality battery blower like the Stihl BGA 100. You will love it!
Opportunity for Improvement
If I was given the the opportunity to make one improvement to this blower, I would add a mechanism to the control lever to lock it into place when operating.
Holding in the control lever fatigues your hand and forearm pretty quickly. It would be nice to be able to lock it in place and have a way to easily release the lock when you want to stop the blower.
See it in Action
Now that you've read about the Stihl BGA 100 battery blower, wouldn't you like to see it in action?
I created a video that shows the different levels of intensity, the battery pack, and the blower cleaning my driveway of leaves and fallen pears! Check it out below:
Be sure to check out the list of 55 Tools Every Homeowner Should Own for more cool tools.