In this post, I'll show you how to make cheap and easy distressed wood stain using vinegar and steel wool.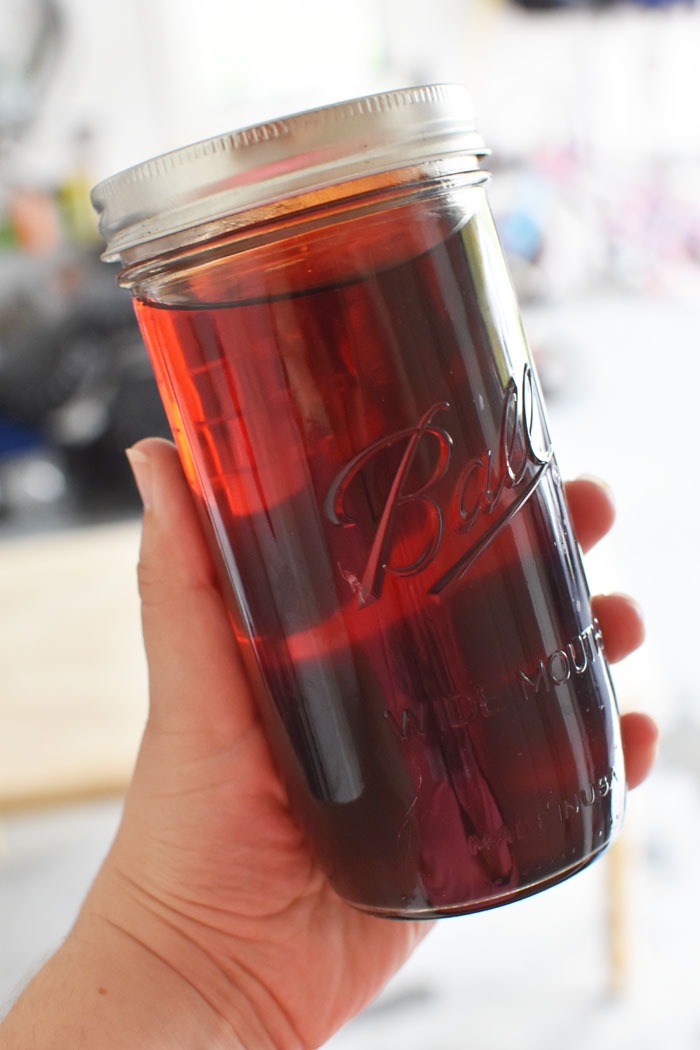 The rustic or distressed wood look is a popular finish on Farmhouse style furniture and fixtures. What often drives me crazy is the high markup price of these rustic goods! Heck, why should I pay a premium for something that looks old and abused?!
The good news it that it's fast and easy to make wood look distressed using a homemade Vinegar and Steel Wool Wood Stain from cheap common ingredients.
Supplies Needed for Homemade Wood Stain:
White Distilled Vinegar - This is the normal type of white vinegar you can buy anywhere!
Steel Wool Grade 0000 -Lower grades like 000 and 00 will also work, but will take longer to break down.
Hydrogen Peroxide - You don't need much of this. Whatever you have in your medicine cabinet should be enough.
Glass jar with a lid - I use a 16oz Ball Jar in my example.
Cheap paint brush, chip brush, or low lint cloth. (I use a chip brush I purchased at Harbor Freight Tools for under $1)
How to Make Vinegar and Steel Wool Stain:
Fill the glass jar with the white vinegar, leaving a little less than 1 inch of headspace at the top.
Tear 1 pad of 0000 steel wool in half. You'll only need ½ of a pad for this amount of homemade wood stain.
Tear off (or cut) little pieces of steel wool from the pad and drop them into the jar of white vinegar.
Very loosely screw the lid onto the jar, but DON'T TIGHTEN IT! The chemical reaction needs oxygen and the gasses produced need to escape the jar.
Place the jar on a sunny windowsill or outside in a sunny location. The sun and heat will speed up the process. The process will still take place without this step, but will take longer.
Wait 2-4 days for the acidic acid in the vinegar to dissolve the steel wool into a solution. You may have to wait longer, but don't sweat it. Eventually all of the steel wool will dissolve in the vinegar.
How to Darken Vinegar and Steel Wool Stain:
Once the vinegar has fully dissolved the steel wool, you can use the stain as-is. However, I found the stain to be too light for my liking, so I added a little hydrogen peroxide to the solution.
To darken the stain, add a splash of hydrogen peroxide to the solution. You'll notice an instant color change take place. The more hydrogen peroxide you add, the darker the stain becomes. I added about 2 tablespoons to achieve my desired color.
How to Store Vinegar and Steel Wool Stain:
The homemade stain can be stored right inside the glass jar with the lid sealed tight. 
In terms of how long its shelf life is, I'm not exactly sure! I have a batch that is over 2 years old and it's still usable.
How to Use Vinegar and Steel Wood Stain: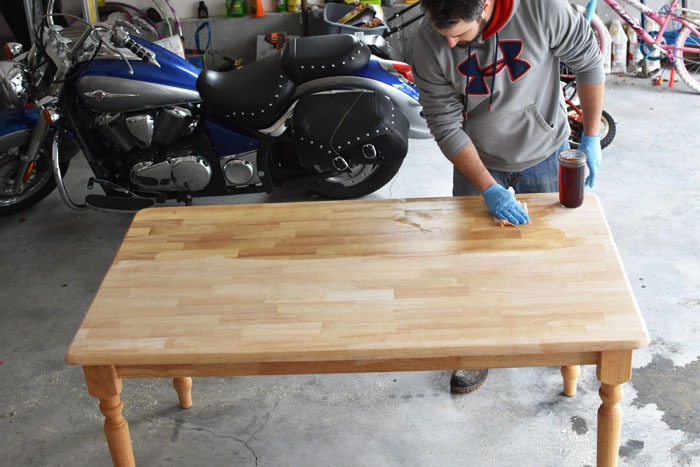 This homemade distressed wood stain can be brushed directly on to the wood surface with a chip brush, foam brush, or cloth.
After applying the first coat of the stain, allow it to dry for 20-30 minutes. You'll witness the wood darken as it dries.
Finally, A second (or third) coat can be added until you achieve your desired distressed wood look.
If you're going to seal the wood, let it sit overnight to ensure it's completely dry before applying a sealant.
Finishing Options
After the wood has fully dried (allow overnight or at least 8 hours), you can apply a sealant like polyurethane, lacquer, shellac, or polyacrylic to protect your project.
Results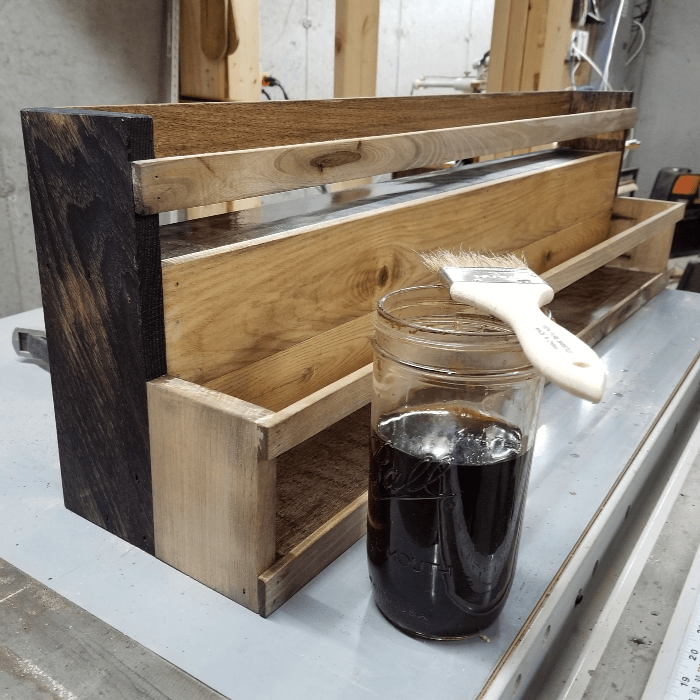 The resulting color can vary greatly between different types of wood.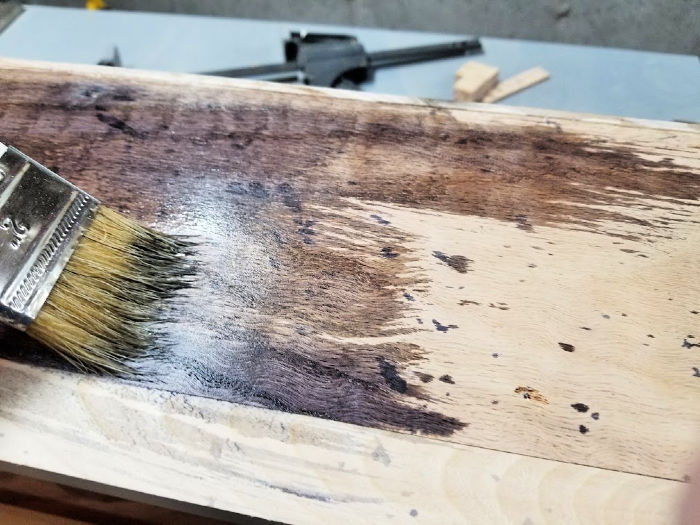 I used the homemade vinegar and steel wool stain on a recent Coffee Bar/Speed Rack project I made from scrap oak wood. The piece was made from white oak pallet wood, and red oak purchased from Home Depot.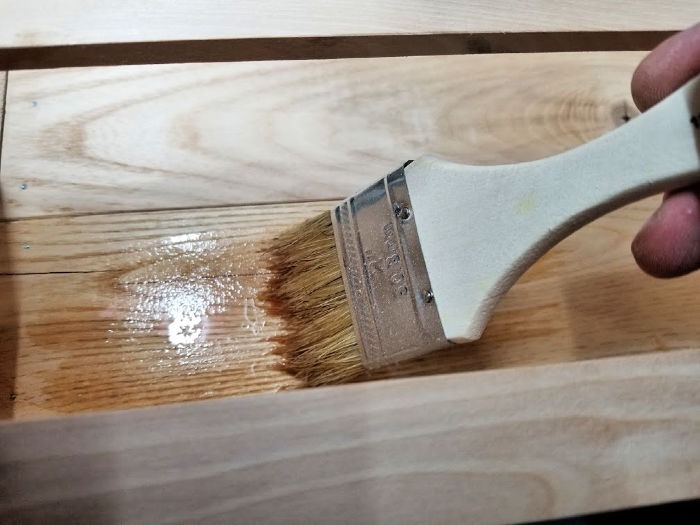 Look at the difference in color between the 2 woods. The red oak from Home Depot turned a dark shade (almost black), while the pallet wood turned more grayish.
Therefore, if you're looking for a specific effect, test the stain on a piece of scrap first to make sure it reacts as you intended!