Wondering about the Husqvarna Automower Robotic lawn mower? How does it work, how much does it cost, does it actually work well...? These are all valid questions you should be asking if you're thinking about buying one.
I've owned the Husqvarna Automower 450XH for several months now and have the answers you need!
To begin, let's start with an introduction to the mower: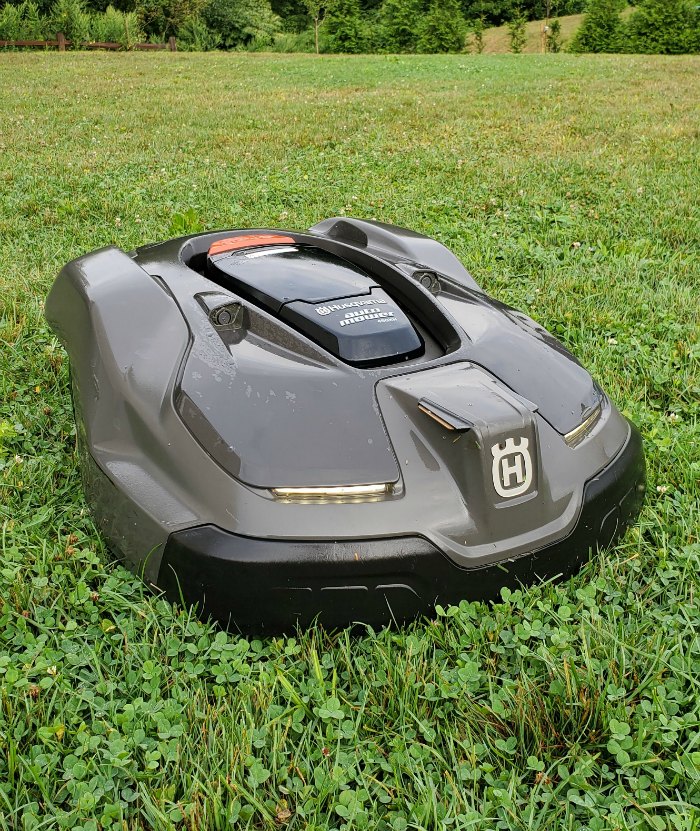 What is the Husqvarna Automower?
In the simplest of terms, the Husqvarna Automower is a robotic lawn mower that cuts your grass automatically. It employs the help of boundary wires, guide wires, GPS, Artificial Intelligence (AI), and ultrasound to accomplish this.
Its settings can be modified on the mower itself or via a smartphone app.
The good news is, the Automower comes in various sizes and capacities. Below is a breakdown of Automower model, max working area, technology, and price (MSRP):
| | | | | |
| --- | --- | --- | --- | --- |
| Model | Max Working Area | Cutting Height | Technology | MSRP |
| 115H | 0.4 acre | 2 - 3.6 inches | Automower Connect@Home | $1,599.95 |
| 310 | 0.25 acre | 0.8 - 2.4 inches | Automower Connect@Home | $1,599.95 |
| 315 | 0.4 acre | 0.8 - 2.4 inches | Automower Connect@Home | $1,799.95 |
| 315X | 0.4 acre | 0.8 - 2.4 inches | Automower Connect | $2,499.95 |
| 430X | 0.8 acre | 0.8 - 2.4 inches | Automower Connect | $2,699.95 |
| 430XH | 0.8 acre | 2 - 3.6 inches | Automower Connect | $2,699.95 |
| 450X | 1.25 acres | 0.8 - 2.4 inches | Automower Connect | $3,499.95 |
| 450XH | 1.25 acres | 2 - 3.5 inches | Automower Connect | $3,499.95 |
| 550 | 1.25 acres | 0.8 - 2.4 inches | Husqvarna Fleet Services | $3,699.95 |
| 550H | 1.25 acres | 2 - 3.5 inches | Husqvarna Fleet Services | $3,699.95 |
Technology
Besides the professional mowers which are made to be part of a commercial fleet of Automowers, the home units have 2 different technologies that they operate on:
Automower Connect@Home
Automower Connect@Home is the "entry level" controls and technology package. It's installed on the smaller, lower-end machines that appear to have been designed for small, enclosed yards without much complexity.
Husqvarna didn't pack too much features into Automower Connect@Home, like they did with Automower Connect. For example, @Home uses Bluetooth to communicate with the mower, while Connect uses GPS. As a result, you are limited to how far you can be from the mower to connect to it.
Automower Connect
Automower Connect is the flagship technology powering the Automower 315X models and higher. With Automower Connect, you have full control over your mower from wherever you are.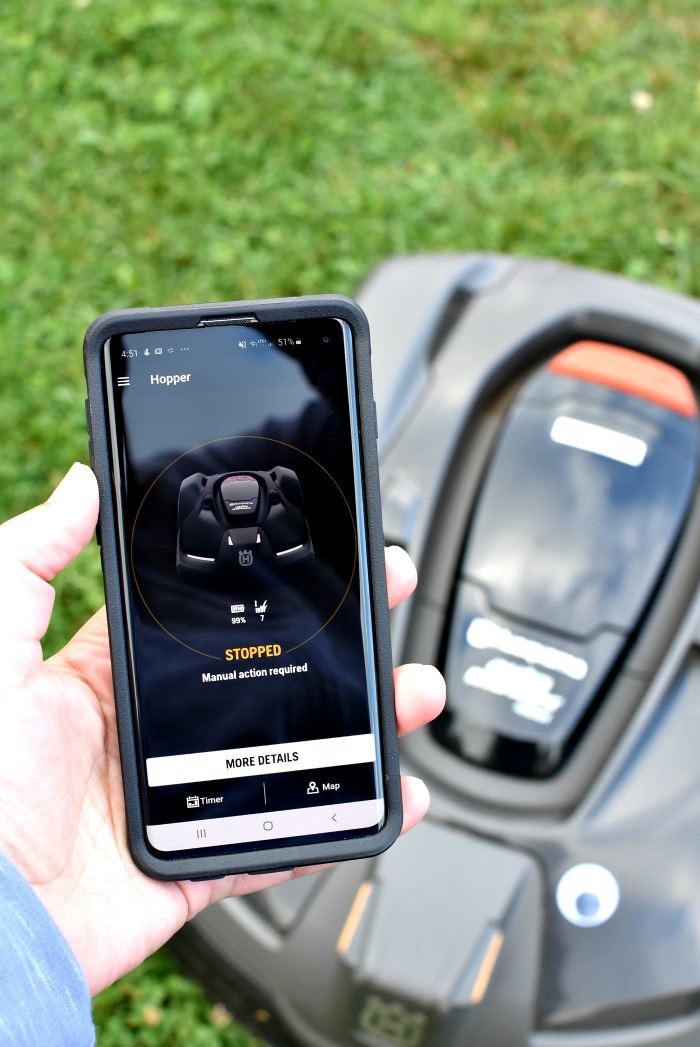 One of the coolest things about Automower Connect is the GPS. As a result, you can see where your mower is at anytime - even where it is in your yard at that very moment!
The GPS feature aids the Automower with navigating its way through your yard, and with improving its cutting patterns. Furthermore, it's a key component of the anti-theft features built into the machine. In the event someone runs off with your Automower, you or the police will be able to see its last known location.
This premium feature is made possible by an actual cell phone antenna installed inside the Automower (included is a 10-year contract). In other words, you don't need to connect it to your home WIFI and deal with dead-spots or the mower being too far away from the router.
After the Automower Connect App is installed on your Android or iOS smartphone and connected to your mower, you can control it. Here's what you can do through the app:
Start or stop the mower;
Park the mower;
Pause mowing;
View and change settings like - cutting height, LED headlights, and Weather Timer.
Set operation schedules - start and end times Sunday - Monday;
View the real-time GPS location of the mower;
Receive and view alarm notifications;
Connect to Amazon Alexa and Google Home to control the mower;
View statistics, and more.
So, Automower Connect makes owning a Husqvarna Automower innovative and convenient, but what is the actual mower like?
The Husqvarna Automower
In the world of machines... Features and technology can be the most innovative and coolest to ever exist, but if a machine can't perform its most basic purpose well, the whole thing is crap!
From a distance, the Husqvarna Automower almost looks like a cybernetic turtle. In fact, if you have never heard of or seen a robotic lawnmower before, you would really be caught off guard at first sight of the Automower! I've humored at passers-by of my home that catch the Automower at the corner of their eye as it mows the front yard. The looks of confusion, curiosity, amusement, and "WTF" have been prominent!
Design & Construction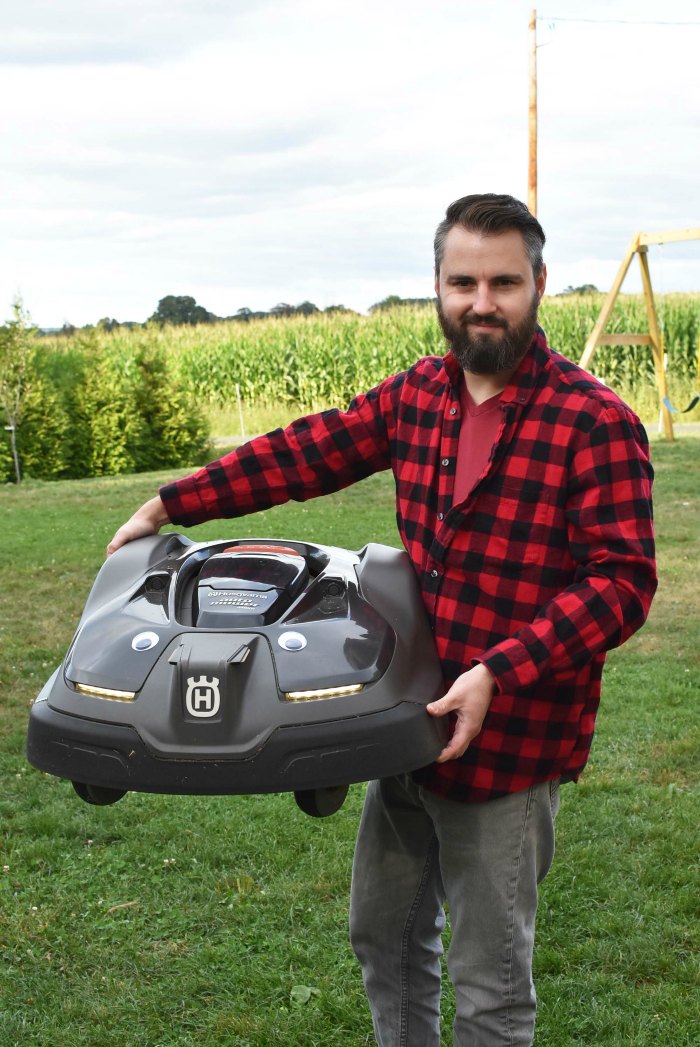 Body
The Automower is weather resistant. That means it's engineered to stay outdoors for every season it's actually used. That means, it will cut the grass while it's raining and has no issues in wind or other moderate weather (I wouldn't test it in a tornado or hurricane)!
In addition, the Automower should be stored indoors during winter, especially in areas that snow. You can't expect it to be buried in snow all winter and then expect it to work fine in the spring! Plus, this time of year is the perfect time to have preventative maintenance performed on it by your local Husqvarna dealer.
The mower body (shell) is made of plastic. I'm not sure what type, but it's durable from what I can tell. My mower has got caught up in my garden fence and sideswiped many hard objects in my yard. As a result, the body has a few scuffs, but nothing beyond superficial.
The Automower 450XH weighs less than 30 lbs, but is built well and powers though my yard without any difficulty.
Cutting Deck
The Cutting Deck is steel and has 3 razor blades that pivot out when the deck spins, but retract back in when it stops. Fortunately, this is a safety feature that reduces the risk of the Automower chopping something up that happens to fit underneath its low profile.
The blades are replaceable and last for a couple of months, but that can vary depending on your use and species growing in your lawn. Thankfully, there's a cutting edge on all 4-sides, so you can simply unscrew the blade and flip it to a new side until all are dull. Replacement blades cost $24.99.
Wheels
The Rear Drive Wheels are made of hard rubber with strong knobs. As a result, they provide impressive grip that allows the Automower to climb hills up to a 24 degree incline.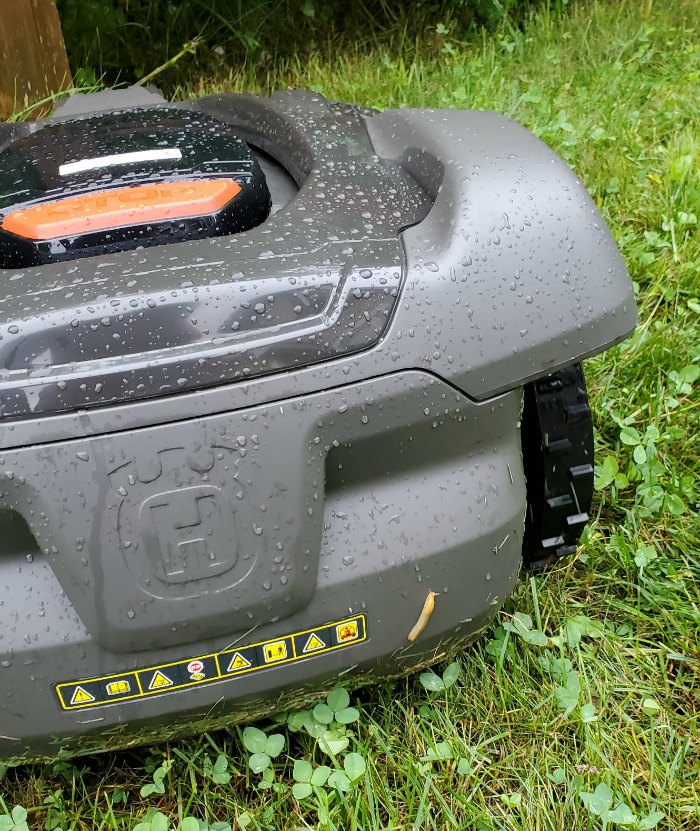 Battery
The 450 series is equipped with an 18V Li-Ion battery with 10.0 Ah capacity. This provides a typical mow time of 270 minutes. To serve my curiosity, I calculated how much gas I saved last year by not using my tractor - 30 gallons! Hey Al Gore, you can thank me later!
Charging Station
The Charging Station is made of durable plastic. It's equipped with leveling pads so it can be placed in an optimal area of your yard. In addition, this is where the boundary and guide wires are connected.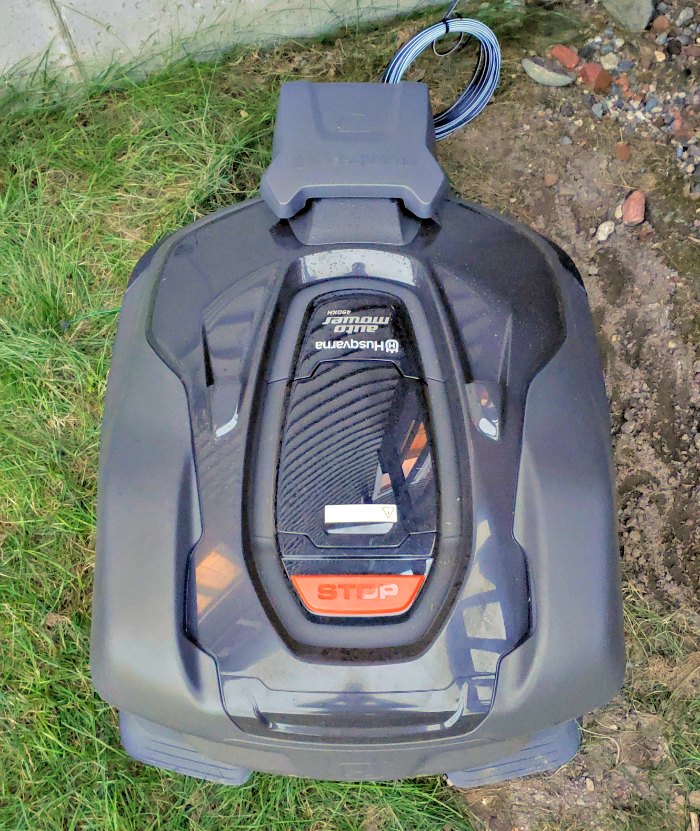 I am impressed with the overall design and construction of the Robotic Lawn Mower. But, how does it work? Believe me, I was skeptical about this at first, but happily surprised...
Performance
As mentioned above, it doesn't matter how nice something looks or how many cool features something has. What really matters is performance. So, does the Husqvarna Automower actually cut grass well?
It works really well... but here's the catch!
Cutting...
The Automower's cutting deck is equipped with three (3) razor blades for cutting. As I'm sure you're aware of how a typical lawn mower blade looks, it's much larger and stronger than a razor blade! However, don't jump to conclusions yet, read on...
The way the Automower works is by "clipping" the grass...often. The whole intent of the Automower (and one of its greatest features in my opinion) is to maintain your lawn at a specific height. It achieves this by routinely working in your yard clipping just a tiny amount of length off the tip of the grass blade.
How Often?
My Automower 450XH is programmed to mow between the hours of 4:00AM - 8:00PM, Monday - Saturday. If you do the math, that's 16 hours per day, 6 days per week!
That may sound excessive, but I have about ¾ acre of lawn. Think about it, during months of high growth like late spring - early summer, the grass grows like crazy! Sometimes you need to mow it twice per week just to keep up. That's why it's necessary for the automower to mow for long periods of time to maintain a consistent height.
Height Matters...
An established mower works really well for maintaining lawns. However, if it's parked for a period of time and the grass grows by 2-3 inches, the Automower may need some help.
Long blades of grass tend to fall over and miss the blades. This results in a lot of missed grass blades. Situations like this might require you to cut your grass with your old lawnmower to get it down to a normal length. You could also set your Automower to maximum height (depends on the model) and change it back to normal height after a few days.
Slow or No Lawn Growth?
During weeks or months of slow growth, you can activate the Weather Timer setting. This setting will automatically park the mower that day if it starts mowing, but senses that the grass hasn't grown since the previous day. Therefore, it's not wasting cutting time or energy on just rolling around your lawn looking cool!
The great thing about this is you don't even have to think about cutting your grass! The Automower does everything for you and your lawn never looks overgrown and unkept.
Free Natural Fertilizer?
If you're not already aware, I'll have you know that finely mulched grass clippings are some of the best natural fertilizer for your lawn. They naturally decompose into compost and make a great soil amendment. Why collect grass clippings, when they can replenish vital nutrients back into your lawn for free?
Since the Husqvarna Automower clips just a tiny bit of grass each day, it doesn't leave clumps of clippings behind. The clippings are too small and just fall through the blades to the soil.
Cutting Pattern...
The default cutting pattern of the Automower is random. It cuts within your yard boundaries with help from the guide wires and boundary wires. However, it's at all sorts of angles, lines, and intersections.
You might be thinking, "But, I love the way rows look on my lawn". Sorry to break it to you, but mowing in the same rows (or direction) everytime is not great for the grass. It can lead to the blades developing a "memory" of the row and the blades will tend to lean in a specific direction. This could lead to that side of the blade always being exposed to the sun and burning quicker.
The random cutting pattern of the Automower allows the grass to grow straight up because it's always being cut from a different direction.
Cutting Edge...
What about the edges of your lawn? Although the Automower eliminates the need to mow your lawn, you're not off the hook for trimming edges. It's good, but not that good!
The distance between the outside of the body or bumpers from the blades is a couple of inches. Therefore, the blades can't reach all the way to the edges of objects. Therefore, yo still need to use a string trimmer to cut along yard features (like you normally would if you used a traditional lawn mower anyway).
Noise Level...
I'm confident that the Husqvarna Automower will be the quietest lawn mower you've ever heard! How quiet? The sound level of the Automower is 63 decibels!
As a comparison, that's about as loud as a normal conversation. In fact, makes a low hum that you can speak over with no effort at all if the mower is operating directly beneath you.
Here's a video, can you hear it?
Conclusion
The Husqvarna Automower has been a huge benefit in my life. Most importantly, it's allowed me to spend more time with the fam and doing other things I actually enjoy!
It might not be an essential home tool, but it sure is a nice-to-have smart tool around the house. Sure, the price tag might be steep, but it's in line with the cost of a ride-on lawnmower. Plus, you don't need to buy gasoline and oil changes!
You can learn more about the Husqvarna Automower on Husqvarna's website.
Now that you know what the Husqvarna Automower is all about, what do you think?