In this installment of the Handyman Basics series, I'll focus on a simple skill that every man should know... How to change oil in a car. Learning to change your own oil can save you a bunch of money, and you'll become more familiar with your car's engine.
It's A Husband Thing Handyman Basics series focuses on basic tasks that every Man should know. It's my mission to bestow this valuable knowledge to every man - young and old - who seeks to embrace his inner HANDYMAN!
This post contains affiliate links to products I recommend on Amazon.com. As an Amazon Associate I earn from qualifying purchases.
The Basics
Why Are Oil Changes Important?
If your car has a conventional combustion engine, meaning it uses gasoline as fuel, it uses motor oil to keep the... (you guessed it) engine lubricated.
Without adequate lubrication, the moving parts inside the engine would have too much friction between them. This would result in the generation of too much heat and the result of fast wear of engine parts.
But wait, "motor oil" is used to keep an "engine" lubricated? What about "engine oil"?
Technically, they're the same thing because an engine is actually a motor. Let me explain...
FUN FACT: What's the difference between a motor and an engine?
MIT School of Engineering has a really in-depth explanation on the background of the two words. In a nutshell, it's just a matter of semantics - the word motor and engine can be used interchangeably.
Link to MIT's article is at the end of this post.
How Much Money is an Oil Change?
The average cost of an oil change at a chain shop is $20 - $100 according to research performed by NerdWallet.
They wrote a great article listing the average oil change costs, which I've linked to at the end of this post.
The overall cost depends on the type of oil you choose (conventional, synthetic blend, or full synthetic), and what (if any) other services the shop tries to up-sell you.
Learning how to change oil yourself will save you a lot of money especially if you use synthetic oil.
Synthetic vs. Conventional Oil:
Synthetic motor oil is more expensive than conventional motor oil, but you might be wondering why. What's the difference between synthetic and conventional oils?
Below is a brief summary of the key differences:
Synthetic oil is distilled, purified and broken down into individual molecules so it can be tailored specifically to the needs of an engine.
Synthetic oil has more lubricity than conventional oil, so it provides better wear prevention to an engine. Plus, better lubrication means your engine can run cooler. Higher internal engine temperatures can be correlated to faster wear.
Synthetic oil keeps an engine cleaner for longer.
Synthetic oil protects your engine at higher temperatures.
Synthetic oil flows better in cold temperatures.
Based on these key differences, synthetic oil is superior to conventional motor oil. However, this superiority will align you with the higher end of the commercial oil change price range as mentioned above.
That's why I choose to change my own oil! I'm glad to share the basic process with you so your car can have the benefits of using synthetic oil without paying around $100.
Synthetic blend oil is another option that has some (but not all) of the benefits of full synthetic oil. Synthetic blend motor oil will cost you more than conventional oil, but less-than full synthetic.
It's better than conventional oil, but not by leaps and bounds like full synthetic...
(Exxon Mobil has a great article explaining this topic. I've linked to their article at the end of this post.)
How often to change oil?
Your vehicle's owner's manual will define how often you should change your oil. Every manufacturer has their own recommendations.
That old "every 3000 miles" interval is still touted by some chain shops and dealerships, but only because they want your repeat business as much as possible. Don't listen to them, read your owner's manual.
Full synthetic motor oils have a reputation of lasting 10,000 miles or more! Please keep in mind however, oil life depends on the oil quality and driving conditions.
Driving conditions greatly influence how long your oil will last. Aggressive driving, stop & go traffic, and mountainous regions put extra wear & tear on your engine, so the oil needs to be changed more often. If you drive mostly on highways and long stretches of country roads, you can push your oil change interval to the higher end.
Like most people, I drive a combination of highway, city, and back roads. As a result, I change my synthetic oil every 7,500 miles or so...
How Long Does an Oil Change Take?
A typical oil change takes 10-15 minutes at a commercial garage.
If you change your own oil, it will take anywhere between 10-30 minutes depending on your experience. This time depends on your setup and cleanup time.
Tools You'll Need to do an Oil Change:
An oil change is a basic preventative maintenance task performed on an engine. This basic task requires only basic mechanical hand tools. Here's a list of tools you will need on-hand: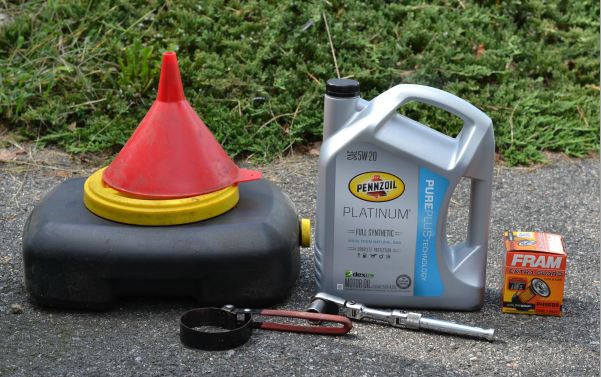 Wondering what other basic tools you're missing from your tool collection? Be sure to read my post These 55 Tools Will Make You a Happy Homeowner.
Supplies Needed for an Oil Change:
How to Change Your Car's Oil:
The procedure for performing an oil change is easy. The following steps are the same for the vast majority of cars and trucks. However, I recommend you use caution and read your owner's manual before proceeding to make sure your car doesn't have any special requirements.
Detailed Steps:
Pop open your vehicle's hood.
Go under your vehicle and find the oil pan.

The oil pan holds the car's motor oil. It will usually be located right under the center of the engine.

The general location is usually between the front wheels. The oil pan will have one bolt with a hex head screwed into the bottom side of it. This bolt is called an "Oil Pan Drain Plug".If you're having trouble finding the oil pan, go under the hood and locate the motor oil dipstick. Now, look straight down to where the dipstick tube leads into the engine. The oil pan will be under the engine around that area.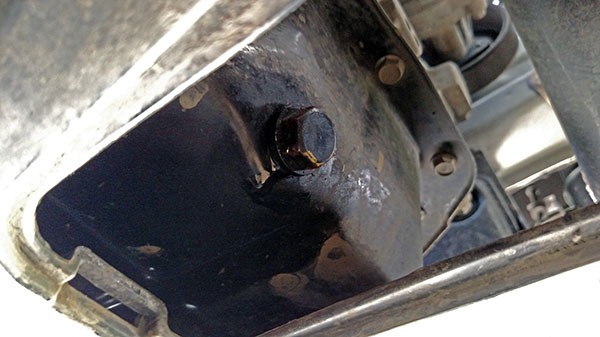 Place the oil drain pan under the oil pan drain plug.
Using a properly sized wrench, loosen the drain plug until it's easy to turn with just your fingers.
Re-center the oil drain pan under the drain plug you just loosened and finish unscrewing it completely.
Allow all of the oil to drain into the drain pan.
Screw the oil drain plug back into the oil pan finger tight. Then tighten it with the wrench or socket. Be careful not to over-tighten this bolt! Typical drain plugs should be tightened to 20-25 foot-pounds (ft*lbs). Assuming you don't own a torque wrench, just give it a good snug tightening without putting too much strength into it.
Now find the oil filter. Most of the time you can see it by looking under your hood, down around your engine. The vehicle owner's manual should show the location of the oil filter as well, if you still can't find it.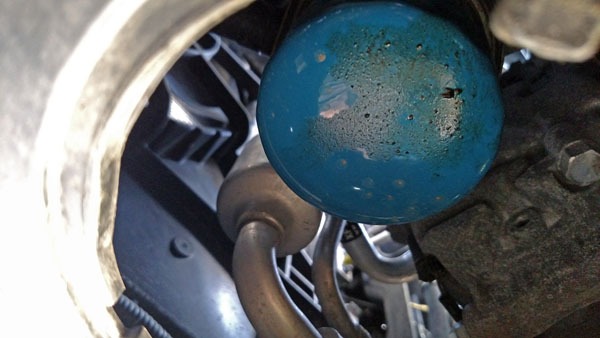 Center the Oil Drain Pan under the oil filter.
Loosen the oil filter using an oil filter wrench. You can do this by hand, but an oil filter wrench makes it a lot easier!
Oil will begin to pour out the sides of the filter. Allow most of it to pour out before completely unscrewing the filter from the engine.
Unscrew the oil filter all the way and drop it "opening-down" on to the Oil Drain Pan. This is why an Oil Drain Pan with a grated opening is ideal. You can now let the oil filter sit there and drain completely before disposing of it.
Wipe away any oil mess from the area with a rag.
Using a gloved finger (or ungloved) wipe a thin coat of clean motor oil on the new oil filter's rubber gasket. This will allow the new oil filter to smoothly screw onto the engine without too much friction.
Screw the new oil filter onto the engine by hand. Once it stops spinning, tighten it by giving it another ¾ turn.
Go under the hood and open up the oil fill cap on the top of the engine.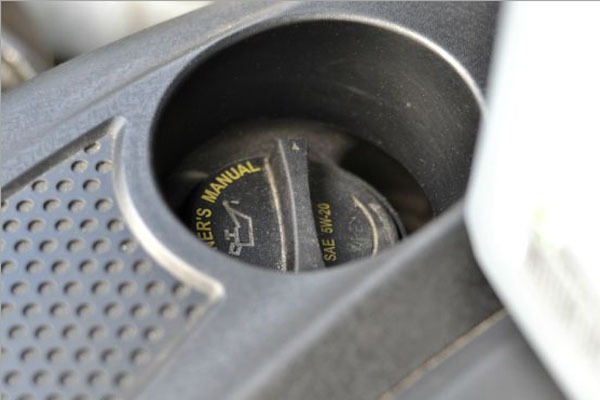 Place a funnel inside the hole and slowly begin pouring new oil into the engine.
If you know your engine's oil capacity, pour just under that amount into the engine.
Wait 30 - 60 seconds to allow the oil to reach the oil pan.
Check the oil level on the oil dipstick. Slowly add more oil until the oil on the dipstick is at the "full" mark.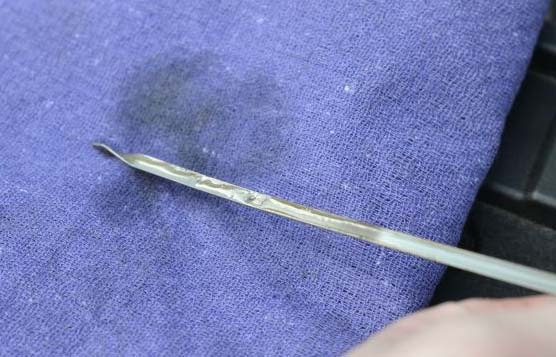 Remove the funnel, screw the oil cap back on the engine.
Start the engine and you're done!!!
That's all there is to changing an engine's oil.
Here's a quick video of the process:
How and Where to Dispose Used Motor Oil: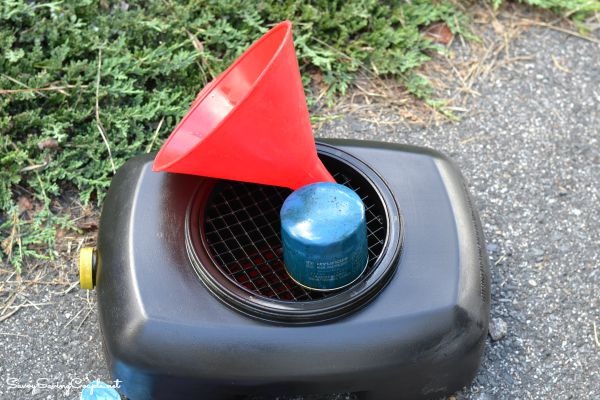 Disposal of used motor oil must comply with Federal, State, and Local laws. Never dump used motor oil in the environment. This includes the ground or water bodies. It's extremely illegal, and you'd be a terrible person for destroying our environment.
Your used motor oil can be left inside the oil drain pan if it's designed to be transported. Otherwise, you can drain the oil from the oil drain pan into the empty 5-quart container your new oil just came out of.
There are a couple of ways to dispose of used motor oil:
Most retail stores that sell motor oil like AutoZone, Advance Auto Parts, and even Walmart will accept the used oil back.
Most city or towns accept used oil. Check your local city or town's website or call them for the information.
References: