Everyday Carry Gear You Can't Live Without (That make Great Gifts too)!
*This post contains affiliate links to everyday carry gear that I either use or recommend. All opinions below are 100% my own. I don't recommend products to you that I wouldn't recommend to my own friends and family. 
---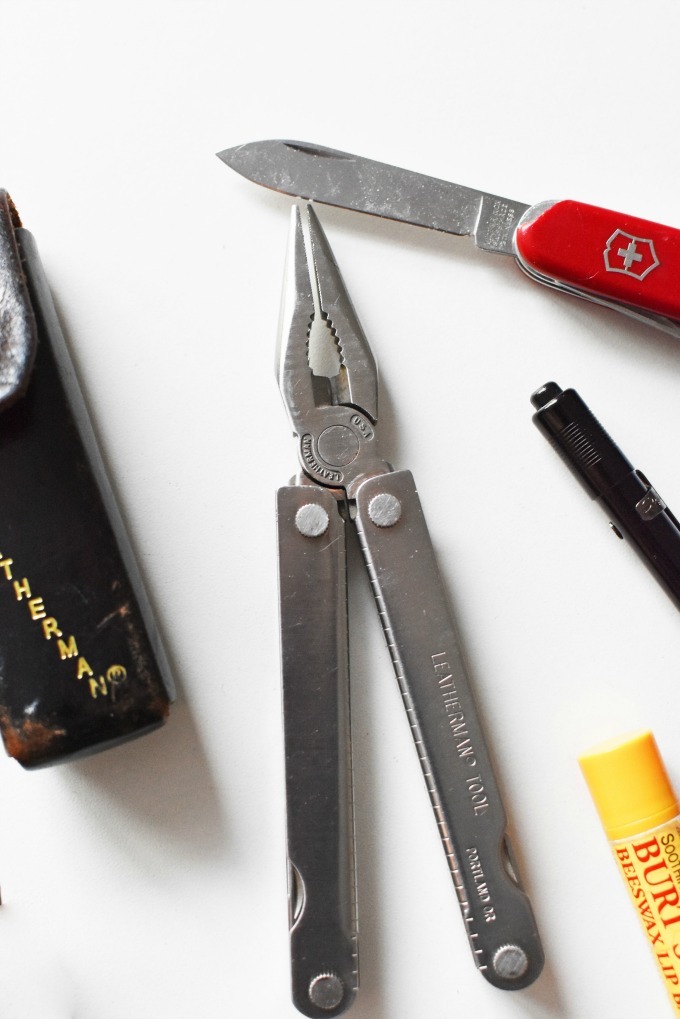 I was an Everyday Carry (EDC) fanatic for years before EDC was ever a "thing". Since my first job as a junior machinist at the delicate age of 16, I have relied on a few essential everyday carry gear.
Like a young child and his favorite blanket, my EDC provides me with a satisfying security and comfort. Being prepared is ALWAYS a good thing!
The below list is what i'm carrying around these days: These also make great Everyday Carry gifts for any hands-on/DIY loving friends or family members. I hope my wife takes note and buys me something from this list to make it a happy birthday this year.
If you only buy EDC gear once in your life, the list below has you covered.
Leatherman PST
This is the original Leatherman tool with leather sheath. The Leatherman PST was handed down to me by my father when I was about 17 years old (about 16 years ago!). Both the tool and leather sheath are in near perfect condition. These multi-tools were built to last!
It wasn't in my EDC arsenal until about 5 years ago and I don't know how I survived without it! I use it at work and home on a regular basis.
The PST performs the following functions:
Needle-nose Pliers
Regular Pliers
wire cutters
hard wire cutters
metal/wood file
clip-point knife
can opener
precision slotted screwdriver
medium slotted screw driver
large slotted screw driver
Philips screwdriver (PH2)
Philips screwdriver (PH1)
8"/20 cm ruler
Awl/punch
Unfortunately, it's no longer produced. Don't worry though, Leatherman has you covered with a wide range of different multi-tools to choose from to fit your budget.
The closest modern equivalent I can find to the PST is the REBAR. It has 17 different tools instead of the PST's 14. One of it's selling points is the replaceable wire and hard-wire cutters. If I ever needed to replace my Leatherman PST, I would buy the Leatherman REBAR.
A premium option, would be the Vicorinox Swiss Tool. This multi-tool is absolutely stunning and has an outstanding 4.8 star rating on Amazon. If you don't mind spending a little bit more money, the Victorinox Swiss Tool Multi-tool should be your number one choice!

One multi-tool is never enough, right?! Well, for most people one probably is enough... I on the other hand, enjoy the convenience of having my Swiss Army Knife in my right jeans pocket (yes, specifically the RIGHT pocket!) at all times.
One of my main reasons is the small knife blade. It's better suited for cutting open various types of boxes (I'm always opening new toys!). It's also about 1.4 seconds faster to take my Swiss Army Knife out of my RIGHT pocket vs. unbuttoning the leather sheath of my Leatherman.
I'm a Manufacturing Engineer, so process efficiency is very important to me!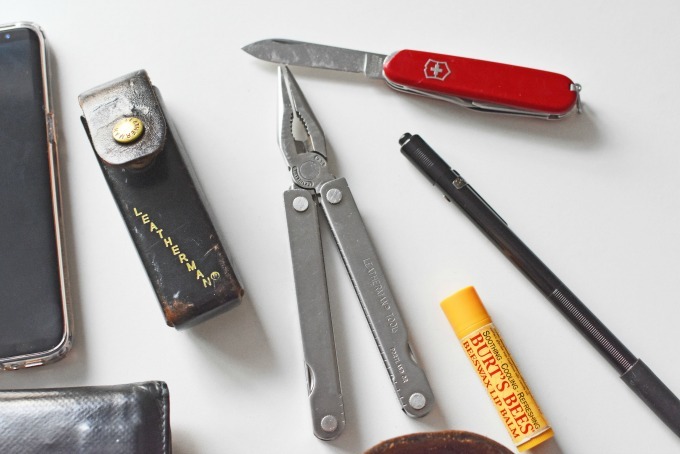 The Recruit Swiss Army Knife is a worthy EDC item that provides the following tools:
blade, large
blade, small
can opener
screwdriver 3 mm
bottle opener
wire stripper
screwdriver 6 mm
key ring
toothpick
tweezers
It's always a good idea to have a small, LED flashlight as part of your Everyday Carry gear. It's important that the flashlight is lightweight, durable, and bright! There are many EDC flashlights on Amazon, most of which are great products. I happen to own the Streamlight by Stylus.
The Streamlight meets all of my criteria above, plus it's waterproof and has a pocket clip. It fits inside my pocket just like a pen. It would make a great addition to any EDCer's inventory. It also makes an awesome gift for a DIYer or handyman.
Burt's Bees - Beeswax Lip Balm
Being stranded at work or in the wild with dry, chapped lips can transform a man into a miserable mutt!
I actually get separation anxiety if I forget my lip balm at home! Most days I don't even need it. But, bet your ass the day I forget it, my lips will look like they're coated with Frosted Flakes cereal!
Therefore, it's always a good idea to keep a tube of lip balm in your Everyday Carry (EDC) gear arsenal.
Pen
I always keep a pen on me - nothing fancy. Usually, it's a pen I got for free somewhere. I can't remember the last time I actually paid for a pen!!!
Wallet
Nothing earth shattering here folks! A wallet is probably the most common piece of EDC gear for a guy. Call me old-fashioned, but I still use a traditional leather wallet.
I've been seriously eying one of those new metal wallets like the one below, because I dig its minimalist design and durability.
Belt
Every man should wear a belt - every day... period! I don't trust a man without a belt! The only exception is if he's wearing workout clothes or is chilling at home in his underwear. Don't get me wrong, there will come a time (maybe a few) when a man will forget his belt at home and he won't discover this until he arrives at work. That has happened to me - AND IT SUCKS! You feel vulnerable, insecure, and alone... I've improvised with tie-down strapping, metal cable, and even giant zip ties in times of belt-less desperation! Anyway, that's enough belt talk.
Below are some really cool belts that would make great EDC gifts:
Summary
My Everyday Carry (EDC) gear works for me by keeping me prepared for most of the situations I find myself in everyday. Chances are, I'll be turning a screw, threading a nut, cutting something, or ripping something out today or tomorrow. Thanks to my Everyday Carry gear, it's just a reach into my pocket or a snap on my belt before I'm getting stuff done.
If you're looking for a complete list of tools every homeowner should own, check out my post: These 55 Tools Will Make You a Happy Home Owner (2018)
Pin this for later: