Like many Dremel tools, the Dremel Ultra Saw may be one of the most versatile saws you'll ever own. Read below to see how it works...
I'm sure you're familiar with Dremel's very popular line of rotary tools. You can do so much with those tools - cutting, sanding, grinding, polishing, and deburring... just to name a few. Staying true to Dremel's reputation in versatility, they came out with the Ultra-saw.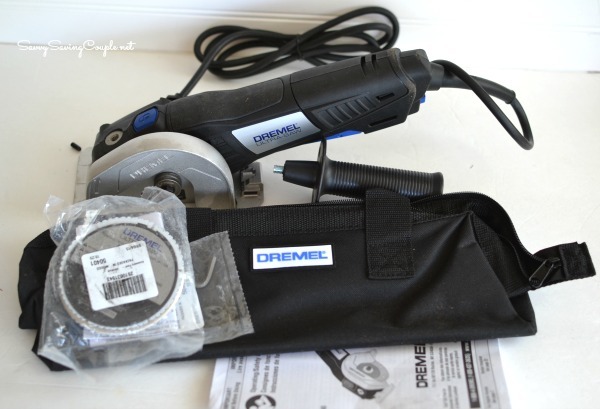 The Dremel Ultra-Saw accepts a variety of different 4" wheel attachments that allow you to perform a host of tasks. With the Dremel Ultra-Saw and the right wheel attachment you can perform straight cuts (up to ¾" deep) in wood, metal, masonry, and tile; perform flush cuts in wood; and surfacing operations like rust/paint removal, and thin-set mortar removal. Just switch out the wheel and pull the trigger.
Since, I just received my new Dremel Ultra-Saw, I thought it would be a great test to build an entire rustic shelf using only the Ultra-Saw to do all the cuts.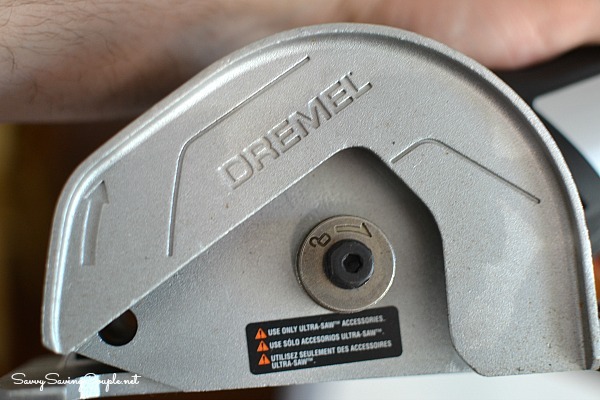 It was easy to install the carbide wood cutting wheel. After pressing the comfortably located spindle lock and a turn of the included hex key into the arbor lock bolt, the wheel was installed. I was impressed with how comfortable the saw was to hold in one hand. If you feel like you want more control, Dremel includes an extra handle that simply screws into the tool's body for an added grip.
Performance of the Dremel Ultra-Saw was as expected... smooth and powerful. This is what I've come to expect from Dremel's line of tools!
I was pleasantly surprised at how easily the wood cutting carbide wheel cut through my hardwood (oak) pallet wood. I've had circular saws and table saws bog down on full depth of cuts on this same wood, but the Dremel Ultra-Saw with carbide wheel had no trouble.
The wheels are actually abrasive wheels. There are no individual teeth like a saw blade, so the chips produced are actually dust. Fortunately, the Ultra-Saw has a vacuum port built in to help combat the dust.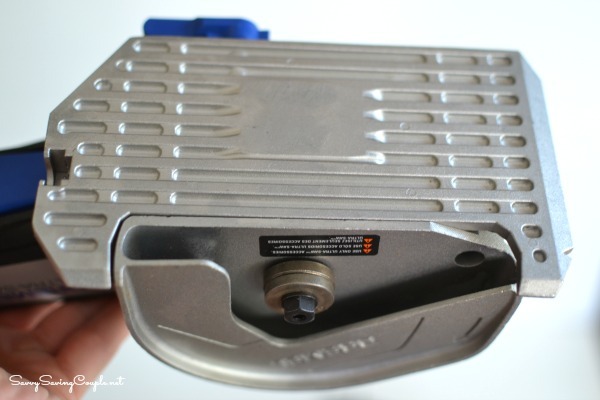 Switching wheels and adjusting depth of cut are simple tasks with the Ultra-Saw. Everything about it is streamlined and easy. I have a strong feeling that my Dremel Ultra-Saw is going to be my new go-to tool.
Using the Ultra Saw
To test the Ultra Saw, I wanted to make my wife a new decoration to hang in the house. She's into primitive decor, so I thought I'd build something out of a pallet I collected from a local business. Lucky for me (and my wife), most primitive style furniture and decorations look really rustic.
That means, it's totally acceptable to skip on most of the sanding and finishing steps I would normally perform for a regular piece of wood furniture. I can save a ton of time and finish a project in a couple of hours.
Tools and Supplies Needed:
Saw (I used the Dremel Ultra Saw)
Old pallet
Pry bar (to pull apart the pallet)
Brad nail-gun (or hammer)
1" & 1-¼" long brad nails
Measuring tape
Combination square
Be sure to watch the video of me using the Dremel Ultra-Saw to make our new rustic shelf below! The dimensions will vary by the size of pallet you're able to obtain, but you'll get the general proportions by watching the video.
This product can be purchased on Amazon or at The Home Depot.