Many have asked the questions: Are Harbor Freight tools any good? What are the Best Harbor Freight Tools?
The answer is not so simple... Some of Harbor Freight's tools are not even worth the dirt-cheap price they're sold for. Other Harbor Freight tools are really decent tools that are worth buying.
Since I wrote this original article in 2018, a lot has changed - some good and some bad. The good news is that Harbor Freight introduced some new brands that have been highly rated since their inception. The bad news is that they took away the 20% off coupon... Unfortunately, all they offer now are specific product coupons and slightly better discounts if you pay for the Inside Track Club for $29.99 per year. Overall, however, you can still get a lot of good deals and walk away happy.
Stick around, and I'll show you the best Harbor Freight tools for your money.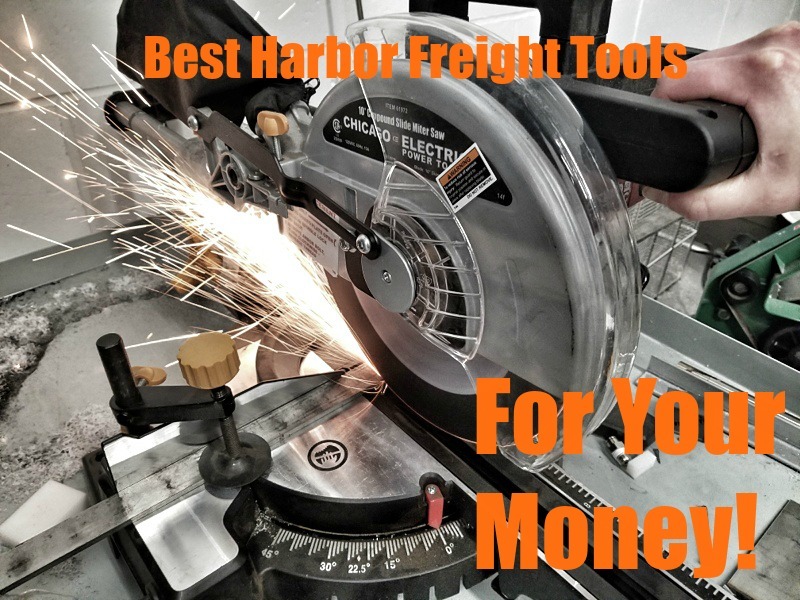 Harbor Freight has a reputation for selling cheap, foreign-made tools that won't last long-term. I run into 2 types of people - those that completely dismiss all Harbor Freight tools as crap, and don't want to hear otherwise; and those that LOVE Harbor Freight tools for their value and coupon discounts!
While I can agree that some of their tools are just as cheaply made as they are easy on the wallet. Harbor Freight actually has a decent amount of tools that are worth the money.
The tools I'm about to list have either been highly rated by the community, or I have real-world experience using them myself in my shop or at work. I welcome any feedback you have on tools I didn't add to the list, or tools you think don't belong.
Let's get this straight before I get to the list. None of the tools on this list are perfect. They are good tools for the money that you could buy and be happy (in most cases) if you were on a budget. Most of us don't have unlimited money to spend on tools, so Harbor Freight is a great resource.
These are the Best Harbor Freight Tools for Your Money!
Hercules 12 in. Dual-Bevel Sliding Compound Miter Saw with Precision LED Shadow Guide
This is the newest addition to my list. I was mainly impressed by the number of overwhelmingly positive reviews this saw has. It's hard to find a product that doesn't have at least one bad review from an unhappy consumer.
As of February 2022, the Hercules 12 in. Dual-Bevel Sliding Compound Miter Saw with Precision LED Shadow Guide has 4.9 out of 5.0 stars and over 1900 reviews. All buyers were happy with the saw's power, easy setup, accuracy, and smooth cutting. Plus, it includes an LED shadow guide, which is better than a laser cut guide!
In fact, many buyers have snubbed their old Dewalt Miter Saws for the Hercules!
The Hercules 12 in. Compound Miter Saw sports some impressive specs like a 15 amp, 4100 RPM motor, 60° right and 50° left miter angles, and 49° bevel angles. Throw in the 1-year Money Back guarantee, and you have yourself a real winner!
Central Machinery 8 in. 5 Speed Bench Drill Press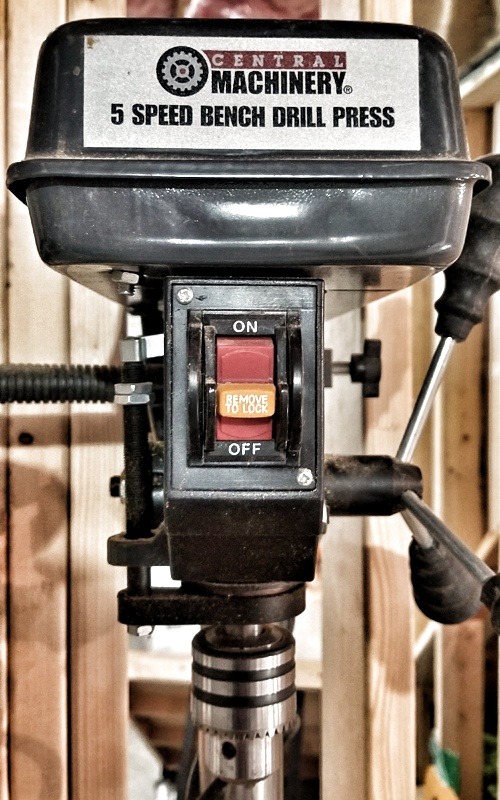 Every workshop should be equipped with a drill press. They are essential for drilling straight holes or tapping a workpiece. If you don't own a milling machine, a drill press will allow you to at least cut straight and clean holes.
It's made for bolting onto a workbench or other waist-height workstation. I made a modular drill press stand for mine with a couple of built-in shelves.
The Central Machinery 5-Speed Bench drill press is belt-driven and has 5 available speeds - 760, 1150, 1630, 2180, and 3070 RPM. You change the spindle speed by locating the v-belt on the different size pulleys of the motor and spindle.
The table measures a mere 6-¼ in. x 6-⅛ in, which limits the size of the piece you can drill into. That's no big deal though because this drill press isn't intended for large parts anyway!
The quill (the part that makes the spindle and drill bit move up and down) movement is smooth, but the quill lock and depth gauge is kind of cheap and flimsy. I wouldn't expect anyone to make precise depth cuts with this drill press anyway, so it shouldn't be a big deal.
I do find the spindle to have a lot of vibration. This is not a huge deal for drilling into wood, but it would definitely cause problems in hard metal. That brings me to my next point...
The Harbor Freight 8 in. 5 Speed Bench Drill Press is a really decent tool for woodworking (which is what it's categorized under on their website). I don't recommend it for metal, because it lacks the table for proper clamping of a workpiece and the spindle vibrates too much.
Pros:
5 Speeds
Small and easy to fit around the shop.
Built in light with flexible arm.
Removable on/off switch.
Includes depth stop.
Cons:
Vibration during use (including at the spindle).
Only suitable for drilling wood.
Small table with no T-Slots.
Depth stop is flimsy and not super rigid.
If you're looking for a benchtop drill press and you aren't made of money, the Harbor Freight 8 in. 5 Speed Bench Drill Press is a good choice.
Want to see it in action? Watch my video review I made a while back.
Central Machinery ⅓ HP 9 in. Benchtop Band Saw
A band saw will allow you to cut complex arcs and sweeping shapes into a workpiece. I remember when I made a band saw box for my wife after her father passed away. It came out pretty darn good. I gave it to my wife as a gift with a nice note inside. (Tip: Women love sentimental stuff like that!) All of the cuts on this box were made with my Harbor Freight Band Saw.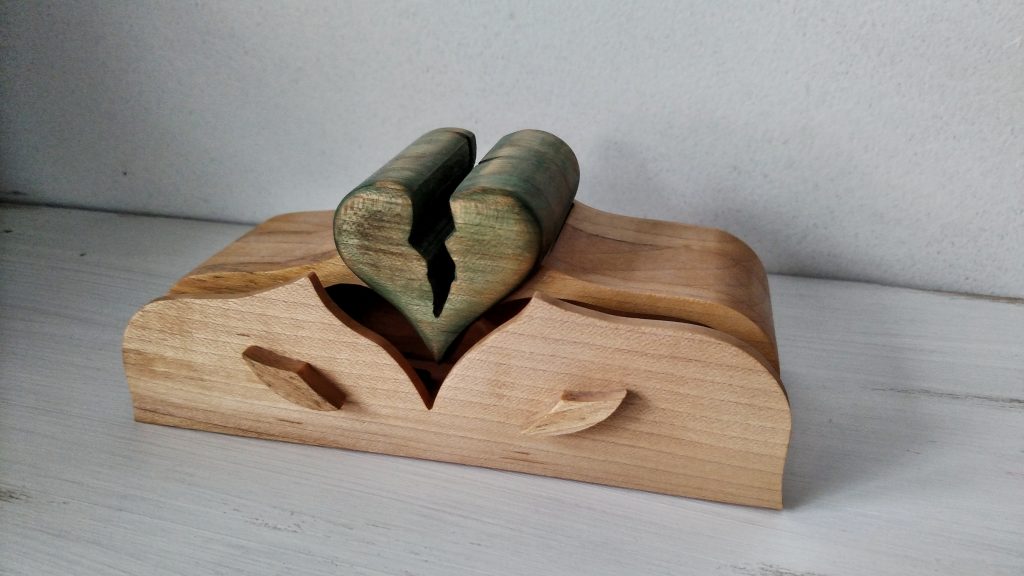 I had a small workshop at the time in my old basement, so I needed a band saw that wouldn't take up as much space as a normal shop size band saw would. After searching online for different benchtop band saws, I settled on the ⅓ HP 9 in. Benchtop model from Harbor Freight.
Most users are satisfied with their purchase according to the reviews on Harbor Freight's website. Plus, the price can't be beaten at around $160!
This band saw uses a 62-inch long blade and accepts widths ⅛ inch to ½ inch wide. It has a 9-inch throat and accepts a 3-⅝ inch thick wood workpiece.
Pros:
My band saw operates smoothly with little vibration. However, I've read other reviews from users that had opposite experiences.
The table pivots up-to 45 degrees.
Includes a, 1-¼ inch dust port in the rear.
⅓ horsepower, 2.5 amp motor operating at 2460 RPM (plenty of power for cutting soft and hardwood with a proper blade and feed rate)
Low price.
Cons:
Throat plate insert is flimsy, lightweight plastic that can pop out unexpectedly.
Sawdust builds up on wheel rubber easily if the inside isn't kept clean. This can cause the blade to slip or run out. Just be sure to connect a vacuum to the vacuum port or keep the inside clean.
The Harbor Freight Blades work okay, but you're better off buying a higher quality blade like this 62 inch Olsen Saw Blade (http://amzn.to/2FMuOBl).
Overall, the Central Machinery ⅓ HP 9 in. Benchtop Band Saw is a great buy for the woodworking shop without a huge budget.
Want to see it in action? Check out my video review of the Central Machinery ⅓ HP 9 in. Benchtop Band Saw:
Earthquake XT 20V Max Lithium ½ in. Cordless Impact Wrench
The Earthquake XT 20V Lithium ½ in. Cordless Impact Wrench is a relative newcomer to Harbor Freight, but it's already summed up lots of positive reviews.
If you're reading this post, you're probably a tool guy (or gal) and have struggled with your fair share of frozen rusty bolts. I've started more "quick" suspension jobs that turned into multi-hour nightmares than I care to admit! An impact wrench will save your ass from those nightmares by breaking those seemingly impenetrable bonds with torques of 1200 ft. lbs.
What makes the Earthquake XT (with a ½ inch drive) a good buy? It packs a powerful 1200 ft. lbs. of torque in a relatively light (7.1 lbs) and CORDLESS package. The huge benefit is the Earthquake XT is cordless. It can be taken almost anywhere without the need for an air compressor like an air impact wrench requires.
At the time of writing, the ½ in. Earthquake XT has zero 1-star or 2-star reviews on Harbor Freight's website. That's rare for any product!
Aluminum and Steel Floor Jacks
Harbor Freight offers several styles of Rapid Pump®, low-profile floor jacks. You can buy one made from Aluminum or Steel. Aluminum gives you a lighter and more portable jack but costs more money than the heavier steel jack.
Ether way, both varieties are highly rated.
I own a 1.5 Ton Aluminum Racing Floor Jack with Rapid Pump® and a Daytona 3-ton Long Reach Low Profile Rapid Pump Floor Jack.
The 1.5 ton, works great for lifting cars. However, I had to upgrade to the Daytona 3-ton a couple of years later when we bought a truck and an SUV. The 1.5-ton floor jack has a max lift height of 14-¼ inches. The Daytona 3-Ton Long Reach Low Profile Floor Jack has a max lift height of 24-¼ inches.
Overall, the Aluminum and Steel Floor Jacks sold by Harbor Freight are an excellent buy.
Bar Clamps
Any woodworker knows that you can never own enough bar clamps. There's nothing worse than delaying a project because you only own enough clamps for half of your glue-ups!
Bar clamps can be expensive! A sizable collection of bar clamps can easily be worth upwards of $1000. I don't know about you, but I can think of a lot more things I'd rather invest that money on!
Harbor Freight sells some really decent bar clamps. In fact, their F-Style Aluminum Bar Clamps with padded jaws are pretty darn good!
I also own several sets of their Quick Release Bar Clamps. They're sturdy, straight, and work like they're supposed to. The pads sometimes slip off unintentionally, but I can live with that considering these bar clamps are a third of the price compared to Irwin or Bessey.
A couple of years ago HF added the Bremen brand to their clamp lineup. Bremen is a higher-end High Power Trigger Clamp/Spreader than the original Pittsburgh brand and is worth the extra few bucks.
Wrenches, Ratchets, and Sockets
Why spend well over 2X the cost (it goes higher for some brands) on wrenches, ratchets, and sockets when Harbor Freight sells quality hand tools. Pittsburgh was the only brand offering a few years ago, but since then Harbor Freight has added additional hand tool brands such as Quinn and Icon.
These tools have a limited lifetime warranty that covers defects in material or workmanship for the life of the tool. If it breaks while you're using it, just bring it back to the store and they'll let you grab a new one off the shelf.
This low-risk arrangement makes these hand tools a safe buy and worth having in your toolbox.
Tool Chests and Roller Cabinets
Almost all the tool chests and roller cabinets at Harbor Freight are well-liked by their owners. The Glossy Red US General industrial-grade roller cabinets have an average rating of greater than or equal to 4.6 out of 5 stars.
The biggest complaint on these cabinets seems to be the castors. While the cabinets and drawers are well made, owners wish the castors were of better quality. The good news is that the castors can be replaced, or you can opt to not roll the cabinet around too much!
The US General tool chests and roller cabinets make it on this list due to their outstanding quality for the price. Icon tool storage cabinets are also highly rated and are Harbor Freight's direct competition to Snap-On toolboxes. They might be half the price of Snap-On, but they're still expensive for the average home tool user.
Conclusion
So there you have it. Harbor Freight tools that are worth the money. There are actually a bit more, but if I commented on all of them, this article would be 20,000 words. Instead, I'll list more top Harbor Freight tools that are worthy of your hard-earned dollars.
More Top Harbor Freight Tools:
Bauer 20V Cordless ½ In. Drill/Driver Kit
floor jacks
Corded Reciprocating Saw
Hardwood Dolly
Badland Winch
60 in. 4 Drawer Hardwood Workbench
12 in. Tool Bag
Nitrile Powder-Free Gloves
Variable Speed Oscillating Multi-Tool
1500 lb. Capacity ATV/Motorcycle Lift
30 ft. x 1 in. QuikFind Tape Measure
Most of their levels
Pry Bars
Extension Cords