If you're a homeowner, chances are you've found yourself in a situation where you needed a specific tool to repair, install, or adjust something, but then you realize you don't actually own that tool. Instead, you end up substituting one tool for another, and it just causes headaches and possibly an injury.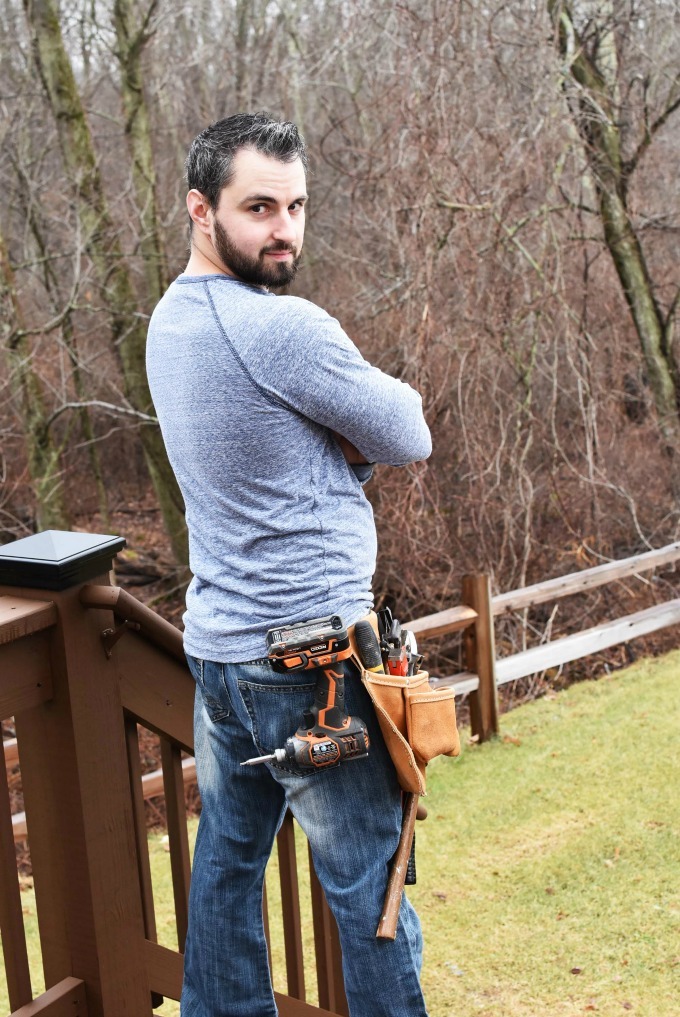 After I moved into my first home in 2010, I quickly realized that my existing set of tools, which consisted of mostly mechanic and machinist tools, wasn't going to help me on my many home projects.
Repairing and installing things are some of the "joys" that naturally come with owning your own home! Having the right tools can prevent you from breaking something, making dumb mistakes, or even getting hurt.
I wanted to save new homeowners the frustrations I went through during my early years as a homeowner. (Plus, shopping for new tools is one of my favorite activities!)
That's why I put together the ultimate list of 55 Top Home Tools Every Home Owner Should Own.
You don't need to spend a fortune building this tool collection. Maybe you already own a few of them. Regardless, after a few years of slowly buying tools from the list, you'll have yourself an epic collection of tools for home!
Utility Knife
A utility knife will allow you to cut through various soft materials with ease. I have one nearby at all times for breaking down shipping boxes, cutting plastic strapping, or even drywall. That's why it's a top tool on my list of 55. A good quality utility knife and a package of 100 replacement blades should last you for years.
Multi-Tool
A Multi-Tool is not only recommended for Homeowners. I recommend everyone add one to their everyday carry (EDC) gear. Having a multi-tool on-hand will make you equipped to handle most of those small tasks that come around - like opening children's toy packages that are wired up like Fort Knocks! A classic lightweight multi-tool favorite of mine is the Victorinox Swiss Army Pocket Knife.
Multi-Bit Screw Driver
A good multi-bit screwdriver will handle most screws you'll encounter on different home products. A good one should include #1 and #2 Phillips bits, plus, 3/16" and ¼" slotted bits. The great thing about most multi-bit screwdrivers is that they also serve as a nut driver for at least one size nut.
Precision Screw Driver Set
Would it be safe to claim that the most common use for a precision screwdriver is to repair a pair of eyeglasses? I think it's a safe assumption. Precision screwdrivers have their place in the home for other projects too. Watches, small toys, and even some electronics contain screws that only a good precision screwdriver can turn.
Tape Measure
Everyone who owns a home should own a tape measure. Whether you're measuring your doorways to make sure that a new refrigerator will fit into the house or measuring your windows for new shades, a tape measure is an essential tool every homeowner needs.
My advice is that you buy a 25-foot tape measure. It will handle most of your measurements indoors and outdoors.
Carpenter's Pencil
How are you going to mark your cuts without a carpenter's pencil?! I'll tell you how. You'll end up using the closest sharp object you have laying around like a screw, nail, or screwdriver. Maybe you'll grab a marker, pen, or one of your kid's pencils. I've done it many times and it's not right! Using a carpenter's pencil will give you a vibrant target for cutting or drilling, so you never miss your mark.
Flood Flashlight
You never know when you might need a flood flashlight, and you don't want to wait until you need one to realize you don't own one! A flood flashlight is an essential tool for emergency use during a natural disaster or power outage. I recommend one that's LED and emits at least 1000 lumens. You also want to make sure it's waterproof and durable.
Pen Light
A penlight is great for lighting up the insides of home equipment like furnaces. I keep one on hand when I need to look under the sofa for one of my kid's toys or inside their noses, throats, or ears for miscellaneous things. (Being a father is sometimes a dirty job!)
Hand Drill / Driver
There are only 5 power tools on this list because I wanted to focus on essential home tools only. Yes, there are a lot more power tools I recommend for a workshop, but I'll save that for another post. If you're only going to buy 1 power tool, it should be a hand drill. Cordless lithium-ion drills are more affordable now than ever, so you should be able to find one to fit your budget and needs.
Impact Driver
An impact driver is great to have around for driving any type of long or large screw into wood. For example - you're going to want an impact driver to drive lag screws into studs for installing a TV mount. Impact drivers make otherwise tiring screw driving activities easy.
Drill Bit Set
You can't own a drill without drill bits. For normal home use, you don't need a 15 piece drill bit set. However, I do recommend that you at least have a 10 piece set to cover general projects.
Driver Bit Set
A driver bit set is essential for driving screws of different heads into various materials. The best wood screws usually use Torx or square drives, so you should own a kit that includes different sizes of these style bits.
Hex Key Wrenches
Screws with a hex drive can be found on many types of home appliances and accessories. For example - many TV mounts and refrigerator doors use screws with hex drives. It's a good idea to have a standard and metric set in your home tool kit.
Tip - Make sure to buy "ball-end" style wrenches so you can unscrew/screw on a slight angle.
6" Adjustable Wrench
I have 2 different size adjustable wrenches on my list. The reason is the larger wrench could obviously handle more size nuts - however, the larger the wrench, the thicker the jaws. That means for smaller nuts with less clearance, you won't be able to fit the 10-inch adjustable wrench into the space. A 6 inch adjustable is a good medium size for most smaller nuts.
10" Adjustable Wrench
Have a 10-inch adjustable wrench on-hand for larger-sized nuts.
Adjustable Pliers
Adjustable pliers are essential to have in your home tool collection for various sized nuts. Great when you need to bite into a large nut or loosen plumbing lines.
Adjustable Pipe Wrench
An essential plumbing tool you should own. You will likely not use it often, but it's invaluable when you need it!
Putty Knife
A putty knife serves a few purposes. The first and obvious use is to spread putty into holes or into cracks on walls. Putty knives can also make effective scrapers. I once had to remove paint from a countertop, and my putty knife worked really well.
Extension Cords
Owning a couple (or more) sets of extension cords is absolutely essential for any homeowner. I recommend owning at least a 25-foot cord for simple tasks. However, if you have a large yard or home, a 50-foot or 100-foot would be better.
It's important to mention that not all extension cords are created equal. Most cheap cords are made from 14AWG (American Wire Gauge) wire. A 14AWG wire is sufficient for small loads like lighting or small appliances. However, higher electrical loads are recommended to use 12AWG wire or larger to carry the higher electrical current.
The longer an extension cord is, the more resistance exists in the wire, which requires a larger gauge to carry the current. I wouldn't buy a 50-foot cord that was less-than 12AWG.
Needle Nose Pliers
Needle nose pliers should be in everyone's toolbox. They allow you to grab small things. Think of them as tweezers on steroids!
Wire Cutters
You'll need a pair of wire cutters to cut... well... wire. The electrical wire may not be the only wire you'll need to cut at some point, but regardless you'll need a pair of wire cutters to get the job done.
Wire Strippers
At some point as a homeowner, you'll need to do some wiring. It's not a good idea to do any electrical work on your home if you're not a licensed electrician. However, maybe you'll need to wire a new doorbell or thermostat. Both of those items are low voltage (10-24 volts) and are generally safe for homeowners to wire.
Wire strippers will allow you to easily and completely strip the wire jacket from the wire.
24" Bubble Level
You'll find a bubble level useful when it comes time to hang shelves, pictures, mirrors, or anything else on a wall. You'll also need one for leveling furniture or appliances. A good 24-inch bubble level is a good size to have if you're only going to own one level.
Non-Contact Voltage Tester
A non-contact voltage tester is 100% necessary if you are going to do any work involving your home's electricity (unless you own a multi-meter or voltmeter). Don't ever touch any wires or electrical components without turning off the circuit breaker and testing the outlet to make sure the voltage is really off.
Safety Glasses
Safety glasses are essential for any type of home project that involves cutting, grinding, or drilling materials. If you want to see your children grow up or see the sunset another day, be sure to protect those eyes of yours!
Ear Plugs
According to the National Institute on Deafness and Other Communication Disorders (NIDCD) long or repeated exposure to sounds at or above 85 decibels can cause hearing loss. Just to give you an idea of what that sounds like - an average vacuum cleaner is around 85 decibels. Therefore, earplugs should be used whenever you operate power tools.
Claw Hammer
I like tools that serve to both build and destroy. A claw hammer is obviously required for driving nails, but it's also great for demolishing objects and tearing out nails. Hammers have actually evolved a bit over the years.
10 lb. Sledge Hammer
Need to break down old concrete steps or drive something like a spike or sign into the ground? A 10-pound sledgehammer will do the trick. It's always good to have one at home.
60 in. Pinch Point Bar
I once had to break up an old concrete patio. I bought a 10-pound sledgehammer and a 60-inch pinch point bar. After a few minutes of pounding concrete with the sledgehammer, I realized that the pinch point bar was way more effective! Using its weight of about 18 pounds, it easily punctures into the rocky ground or concrete.
Bolt Cutters
Bolt cutters are great to have at home if you need to cut a padlock off of something or legitimately cut a bolt!
Pry Bar
If you're ever planning on doing any home improvement projects, you're likely going to pull things apart. A pry bar or crowbar coupled with a hammer is the perfect combination for ripping things apart like framing, cabinets, or old pallets.
Chisel Set
Unless you're a woodworker, you probably won't use chisels often. However, they do have their place in your home tool kit. You'll need a chisel for installing a door lockset, door hinges, or cutting a rabbit into a board.
Punch Set
Any type of finish nailing project will need a punch set. The reason is, you can't drive the nail below the surface with the hammer. You'll only want to hammer the nail head so it's sitting slightly above the surface of the wood, then drive it just below the surface using a nail punch.
Split Leather Work Gloves
Split leather work gloves come in handy (no pun intended!) for handling rough materials like yard waste or debris. You should own a pair for those types of tasks.
Nitrile Gloves
Nitrile gloves are great for those jobs where you don't want grease or nasty smells embedded into your skin for days. Examples include car maintenance/repair and anything to do with toilets or drains (yuck!). I keep a box of 100 in my workshop, so I can grab a pair when needed and toss them out when finished.
Staple Gun
A staple gun is another "staple" (sorry, I couldn't resist myself!) in the home toolbox. Keep one around for securing wiring, different wraps, upholstery, or insulation.
Drain Snake Clog Remover
You'll loath the day that your bathroom sink or tub drain clogs! There's nothing worse than spitting toothpaste into a sink only to have it reappear 2 seconds later! One of the best purchases you can make is a drain snake.
Heavy Duty Garden Hose
A garden hose is a pretty obvious item on a list of home tools. Do yourself a favor though and buy a heavy-duty, kink-resistant hose. I've cheaped out on "medium-duty" hoses in the past, and they were trash after less than 6 months.
Garden Hose Reel
You need to keep your beautiful new garden hose neatly reeled.
Garden Leaf Rake
If you have a tree or one of your neighbors has a tree, you're going to have leaves collected on your lawn. Garden rakes are a must-have tool for keeping a neat and tidy yard.
Round Point Digging Shovel
If you're going to do any digging for things like a garden, mailbox post, or even to "discard" Larry the guinea pig you need the right tool. There's only one type of shovel that's up for the task - a round-point digging shovel!
Square Garden Spade Shovel
I've started many gardens from scratch, and I couldn't have done so without a quality square garden spade shovel. The edge of this shovel allows you to cut into the soil or sod in a straight line. Use one of these shovels to cut sod and leave behind the soil and shape the perimeter of your garden.
Snow Shovel
It seems like everyone in the USA (except Hawaii I think) is at risk for snow these days. If you're in the north, you definitely need to own a snow shovel. If you live in the south, buy yourself a cheap one just to have for those wild weather events.
Combination Square
A combination square is a great tool for the layout of cuts or checking 90 degree and 45-degree angles. They also make great positive stops for repeat cuts on a saw. You can also use a combination square to take accurate measurements of the extension of a tool from its chuck. The bottom line is; a combination square is super versatile, so it should be in your home tools collection.
Circular Saw
Every homeowner should own a circular saw for making straight cuts in boards or plywood. Whether you want to make simple crafts or even a dog house for Fido, a circular saw can help get the job done.
Reciprocating Saw
A reciprocating saw will serve you well as a homeowner. This type of saw is typically not used for finishing cuts, but rather for demolition projects. A good quality bi-metal blade will allow you to cut through wood and metal. I've used my reciprocating saw to cut old baby furniture and box springs into small pieces that fit into my trash bin. This is a very versatile tool that you should own.
Dremel Rotary Tool
Speaking of versatile tools... The Dremel Rotary Tool sits high on the list of versatility. Here are a few things you can do with a Dremel:
Sharpen a lawnmower blade;
Cut sheet metal;
Grind the head off a screw;
Grind a new slot into a worn screw head;
Polish metal, plastic, or glass;
Deburr something;
Cut out an opening in a wall for a junction box;
Cut pipe;
Plus a ton more things!
Get the idea?
Hacksaw
Maybe you don't own a Dremel Rotary Tool yet, but you need to cut a frozen bolt off of something. Sometimes it's just easier to grab a hacksaw and go to town instead of plugging in the Dremel, finding the right tool, and setting it up.
Metal File
As a former machinist and a current manufacturing engineer, I can't live without a metal file. Although there are many different types of files, you can get away with owning a standard mill file for general use. Metal files are the best tools for sharpening, deburring, or removing small amounts of metal from a surface.
Please note that A FILE ONLY WORKS IN ONE DIRECTION - FORWARD. It pains me (it really does) to see someone sliding a file back and forth on a piece of metal. It can ruin the teeth and trash your file. Popular Mechanics has a great page that shows the proper way to use a file.
Torch
If you need to repair or plumb copper pipes, you'll use a torch to sweat the copper pipes. Another use for a torch can be loosening a frozen bolt on something like a vehicle. It's also a badass way to roast marshmallows!
A propane torch is more affordable, but a MAP gas torch is better. MAP burns hotter and works more effectively.
Leather Tool Belt
Even the simplest tool belt, will increase your productivity. As a manufacturing engineer, I'm always looking to "lean" out processes. Having the tools you need right at your waste during a project follows the lean philosophy I always strive for.
Headlamp
Owning a home requires you to sometimes work in dark places, like a crawl space, attic, or basement. If you're doing something that requires both hands, a headlamp will shine a light on whatever you're looking at. You might not use a headlamp too often, but when you need one, you'll be glad you had it.
Step Ladder
I don't think I need to defend the decision to buy a step-ladder. You'll need one for painting, changing ceiling lights, etc...
25 foot Extension Ladder
A 25-foot extension ladder is a good tool to have at home. This would be used for external housework.
Ratchet and Socket Set
Every adult that's somewhat handy should own a ratchet and socket set, even if it's a cheap one. You'll encounter many hex bolts or nuts during the repairs of various items in the home. A ratchet increases your efficiency greatly when loosening bolts or nuts.
Conclusion
I hope you found this list of tools for the home useful. It took me a few years to build up the collection I have now, so don't feel bad if you only own a few of the tools listed above.
How many tools from the list do you already own? Let me know your comments below:
Pin this for later: